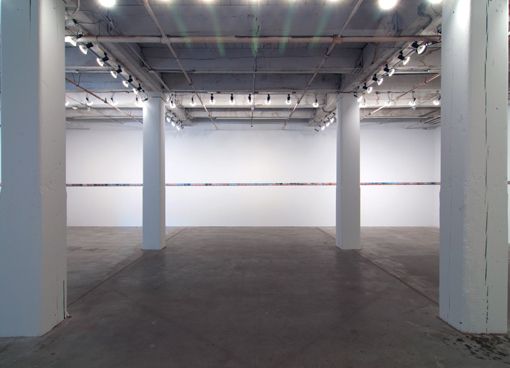 ​April 29–July 30, 2011
Opening Reception: April 29, 6pm–9pm
Artist Talk: April 30, 12pm
Keith Jacobshagen is a preeminent American landscape painter. Instantly recognizable for their signature relationship of sky to land, Jacobshagen's paintings construct spaces of intense introspection within the spectacular expanse of the Midwestern sky. Throughout his career, Jacobshagen has focused on the sixty-mile radius surrounding Lincoln, Nebraska to make pictures that capture the spiritual vastness of Nebraska's landscape.
A Golden Year is a series of 365 oil paintings, produced from January 1, 2010 to December 31, 2010 on 3.5 x 5 inch sheets of copper. The copper panels will be installed in a continuous line encircling the gallery. Although Jacobshagen has long been accustomed to painting daily in Moleskin watercolor books, he has never exhibited the works comprehensively.
Keith Jacobshagen's land and sky paintings give form to places we think we know. A Golden Year arrives does not aim to document, nor measure the artist's endurance and they only loosely represent specific sites. Although deeply invested in the daily practice of painting, and keen to reference field sketches such as Frederic Church's, Jacobshagen's series reads as a whole work, each day contingent on the others. His 365 paintings create a buoyant image of a year at dusk, a spectrum of enormous vistas, elevated perspectives and the limitless horizon. Jacobshagen offers us a year of looking into and beyond the sky.
Keith Jacobshagen has said "painting is fiction." His embrace of subjective pleasure grants singular force to these works. The paintings are constructed from direct observation, photographs and watercolors, but also from multiple perspectives, memory, invention and ultimately, from knowing. Jacobshagen's fiction is purely held up by a set of painterly tactics that form believable and compelling places. His earth-shaping works quietly chronicle vast spans of nothing. Places teeming with information — crop rows, outbuildings, flock forms and color spiked contrails are alas dots, dashes and scrims of paint. Jacobshagen gleams in the space between perceived representation and the actual regimens and joys of his studio. He has spent his career in the space between what the mind knows, and what the hand does.  
Jacobshagen sets the deep times of our plains landscape — its inland sea and unquantifiable ecological histories — against the rapidity of our presence here, our imprints on the land and miniscule interaction with its scale. Jacobshagen's works are fully in the moment, yet untethered to the single sunset. In the totality of the series there is a hopefulness and a belief in the coming sunrise.
It is in one's own belief that Jacobshagen allows the viewer to get lost. Stripped of specific markers, the paintings become places for everyone, for the lost memory to emerge and for the future country drive to find its focus. As a means of feeling out one's place in the world, Jacobshagen's paintings sear through the mess and their copper streaked skies grant us the sublime personal clarity of the plains horizon.
A Golden Year is curated by Hesse McGraw, Bemis Center chief curator.
A limited edition catalog is produced in conjunction with the exhibition.
About the Artist
Trained as a graphic designer, illustrator and painter at the Kansas City Art Institute (BFA, 1965) and the University of Kansas (MFA, 1968), Keith Jacobshagen (b. 1941) has been painting the light and space of the Midwest for four decades. Jacobshagen's work has been shown in galleries and museums throughout the United States and, since the late 1960s, he has presented over 80 one-person exhibitions. His work is included in many public, corporate and private collections nationwide. He is professor emeritus at the University of Nebraska-Lincoln.
Press
Jacobshagen's Gold: A Painting A Day | Sally Deskins, The Reader | 6.22.11
Twighlight Zone: Jacobshagen paints year in The Golden Hour one day at a time | Michael J. Krainak, The Reader | 6.15.11
Keith Jacobshagen: A Golden Year" | John Seed, Huffington Post | 5.11.11
Jacobshagen's daily paintings in 2010 make for pivotal showing | L. Kent Wolgamont, Lincoln Journal Star | 4.30.11
Green and Gold at the Bemis: Q&A with Hesse McGraw | Will Simons, Omahype.com | 4.27.11
Exhibitions Presenting Sponsor: Omaha Steaks
Promotional Sponsor: Douglas County Visitor Improvement Fund
Catalogue Sponsors: Clark Creative Group, The Todd and Betiana Simon Foundation
Sponsors: Chris Headley, OmahaComputerHelp.com, Justin V. Allen Design + Development, Larry Gawel Photography, Kiechel Fine Arts, Nebraska Arts Council, Quail Distributing, Sherwin Williams,The Andy Warhol Foundation for the Visual Arts, Upstream Brewing Company, Visions Custom Framing, Warren Distribution