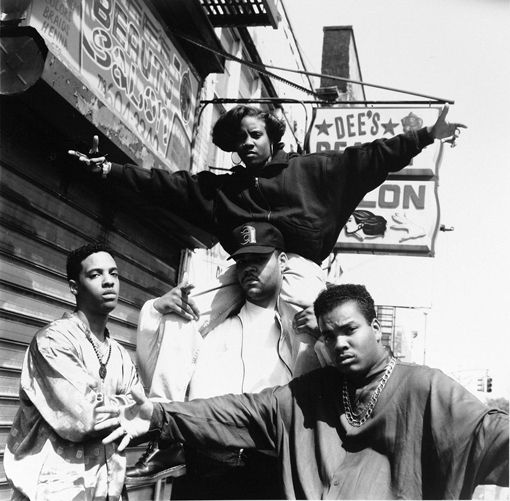 September 2–December 20, 2014
Opening Reception: September 19, 6pm–8pm 
Artist Talk: September 19, 7pm
Location: Carver Bank, 2416 Lake Street
Bemis Center artist-in-residence Janette Beckman has always had a fascination with alternative music scenes and street culture. With an eye for rebel culture, she often works on city streets, particularly those of New York, her adopted home.
The photographs in this exhibition include some of the most iconic images ever created of the early days of hip hop—including early images of Run DMC, Big Daddy Kane, Salt-N-Pepa, and a young LL Cool J. 
Beckman came to New York in 1982, at a time when hip hop was in its infancy. Beckman recalls that she "fell right into the emerging hip hop scene, trains covered in graffiti, kids with boom boxes rhyming on the subway, street vendors selling hoop earrings and mix tapes." Beckman's photographs are characterized by her ability to capture the raw essence of her subjects.
Most recently, Beckman's passion for street culture has led her to focus on the Harlem Go Hard Boyz dirt-bike club riders as subjects for a new body of work. Through her photographs, blending documentary honesty and formal rigor, Beckman captures the spirit and attitude that has brought the Go Hard Boyz a measure of national recognition.   
Beckman's approach to her photographic practice is really a collaboration between Beckman and her subjects. She doesn't dictate or arrange her shots, but works with her subjects to capture moments of honesty, where the subject, not the photographer comes to the fore.
As part of her residency at the Bemis, Beckman will also collaborate with local poet and Spoken Word performer Felicia Webster on "Photojournalism and Spoken Word Stories," a series of workshops for area teens. Using digital cameras, the teens will compile images of their daily lives in North Omaha into a photo documentary, which will integrate written and spoken word poems to express the reflections of their journeys. 
About Janette Beckman
Londoner Janette Beckman began her career at the dawn of punk rock working for The Face and Melody Maker. She shot bands from The Clash to Boy George as well as three Police album covers. She later moved to New York at the dawn of the hip hop era, becoming one of the leading documentarians of the movement. Her photographs have been exhibited at HVW8 (Los Angeles), Analogue (Toronto), Belleville (Paris), Project Space (Los Angeles), Blender Gallery (Sydney), and Proud Gallery (London), among others. Her work has been collected in three volumes, including: Made in the UK: The Music of Attitude, 1977-1982 (PowerHouseBooks 2005); The Breaks, Stylin and Profilin 1982-1990 (PowerHouse Books 2007); and El Hoyo Maravilla (Dashwood Books 2011). 
Exhibition photography: Colin Conces.