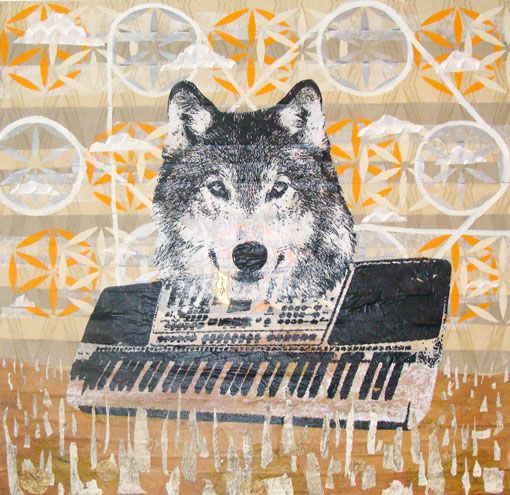 December 2–December 31, 2011
Opening Reception: December 2, 6pm–9pm
Artist Talk: December 3, 12pm

The Bemis Underground is proud to announce the opening of Golden Guts featuring new work from Kim Reid Kuhn and Josh Powell. This exhibition locates beauty in grit, and presses viewers' imaginations into the wayward pulse of events that are obviously headed in the wrong direction. While one artist imagines the world as a playground for chaos, the other provides a snapshot of unexpected events unfolding according to their own propulsive un-logic.
About the Artist Josh Powell's current body of large-scale mixed media work injects foreign elements into natural icons, granting dark consciousness to its animal inhabitants. These creatures have absorbed human behaviour and invention, and seemingly without reason, exploited them to animal ends. A BFA graduate from the University of Nebraska at Omaha, Powell has received acclaim for curating DIY exhibitions in the Omaha/Council Bluffs area, including the recent 97 artist exhibition at Urban Storage, Science Fair.
Kim Reid Kuhn's abstract works present an information-pregnant, non-stop visual cacophony in a vast array of mediums. In each work she mashes humanity and nature together, simultaneously reckless and calculated, like a cross-section of a living organism after being hit by a truck. Giving almost no insight to the motives behind her work, Kuhn allows the viewer freedom to make the work what they need it to be.
Golden Guts is curated by Joel Damon, bemis | Underground Curator
Exhibitions presenting sponsor Omaha Steaks
bemis | UNDERGROUND presenting sponsor Lincoln Financial Foundation
Sponsors: Chris Headley | OmahaComputerHelp.com, Clark Creative Group, Larry Gawel Photography, Nebraska Arts Council, Quail Distributing, Sherwin Williams, The Andy Warhol Foundation for the Visual Arts, Upstream Brewing Company, Visions Custom Framing and Warren Distribution