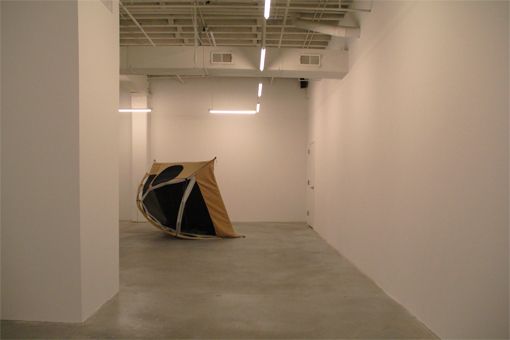 June 4–July 13, 2013
Opening Reception: June 20, 6pm–9pm
Artist Talk: June 20, 7pm
Artist Statement
My ancestral memory, and the oral stories told to me by my family have imprinted my soul map and created who I am today. Learning to tan deer hides traditionally came from a place of wanting ancestral knowledge… learning to make coil pots came from the same yearning to recreate the past in order to grasp a sense of identity for the future. This work is about prolonging life… this moment… this breath … the eternal heartbeat… as even though I may not have those who have come before, I do have the continued remembrance of the words and the longing of what once was. You never lose the longing; it grows stronger and becomes like a heartbeat whose rhythm is a constant presence. For me this work is about survival of the spirit, of my spirit and that of my grandfather's people and their heartbeat that beats within my own body, mind and soul.
About the Artist
Gina Adams' work focuses primarily on her mixed heritage of Ojibwe and Lakota, Native American, Lithuanian and Irish bloodlines. Research and travel are critical to her process, as she engages with landscapes that are both ancient and modern — such as include Chaco, New Mexico and Mesa Verde, Colorado. Language immersion at Turtle Mountain Reservation and working with Maori of New Zealand and the Aborigines of Australia have been important to her growth as an artist. Adams has exhibited across the country, and is represented by Pierogi Gallery in Brooklyn, New York. Adams has a current exhibition in Santa Fe at the MOCNA Museum curated by Ryan Rice, as well as upcoming shows at the Kansas City Artists Coalition River Market Regional Exhibition, juried by Jerry Saltz; the ICA in Portland, Maine; and the Ava Gallery in Lebanon, New Hampshire.
Exhibitions Presenting Sponsor
: Omaha Steaks
Sponsors
: Brand Metal Works, Clark Creative Group, Council Bluffs Recycling Center, Davis Erection and Crane Rental & Rigging, Echo Systems, Education Power | Robert Webber, Larry Gawel Photography, Chris Headley / OmahaComputerHelp.com, Min | Day, Nebraska Arts Council, Nebraska Cultural Endowment, Rybin Plumbing & Heating, Laura and Gregory Schnackel, Sherwin Williams, Mike Sinclair, Upstream Brewing Company, Visions Custom Framing, Warren Distribution