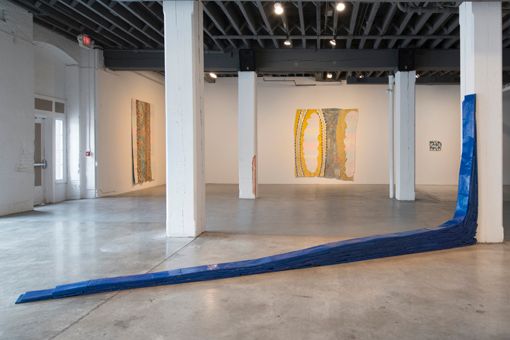 February 22–May 04, 2013
Opening Reception: February 22, 6pm–9pm
Artist Talk: February 23, 12pm
The Bemis Center is proud to present an exhibition of recent works by Garry Noland. Noland received one of three juror's awards at the 2012 Bemis Center Regional Juried Exhibition. For this major solo show, Noland is showing large-scale works produced solely of duct tape — tapestry-like forms that combine the desaturated hues of the colored tape with adhered detritus from his studio floor. Noland brings together the heritage of quilting, midwestern material ingenuity and restless studio experimentation in works that are both grandly ad hoc and humble-spirited.
For this show, Noland's recent works — both outsized and small-scale paintings — are presented alongside a series of small, flirtatious interactions, comprised of duct tape and marbles, with the gallery's wood columns. Noland's visual vocabulary careens across a riotous set of references — spanning Modernist painting, psychedelic patterns, 80s pop culture, contemporary design, Gee's Bend, Coogi Sweaters and glitch aesthetics — and produces works that are raggedly crafted through homespun rigor and pulse with life.
Noland's uninhibited making intertwines with a blue-collar approach to thinking through the work and relating to artist-colleagues. Noland has often traded works with other artists, and engages in a continual dialogue with multiple generations of artists in Kansas City and the region — both his works and the dialogue are forms of engagement that cultivate a camaraderie amongst artists. In this sense, his works align with the history of gift economies and serve to authentically build community.
The Unorganized Territory is curated by Hesse McGraw
About the Artist
Born in Rapid City, South Dakota and raised in Independence, Missouri, Garry Noland works in Kansas City. He attended the University of Missouri, Kansas City, and graduated in 1978. Noland's recent body of work includes paintings made exclusively from different kinds of tapes and contact papers as well as ramp-shaped sculptures made of tape-wrapped National Geographic Magazines. Noland is in his third year of residency at The Studios, Inc, a warehouse building converted into generous studio spaces awarded to mid-career artists. Recent exhibitions have included the Nerman Museum of Contemporary Art and the Hardesty Art Center, Tulsa, Oklahoma. His work is included in New American Paintings #101 and he will be represented in PatternBase, a survey of surface designers and textile artists published later this year.
Exhibitions Presenting Sponsor: Omaha Steaks
Sponsors: Justin V. Allen Design + Development, Brand Metal Works, Clark Creative Group, Davis Erection and Crane Rental & Rigging, Echo Systems, Education Power | Robert Webber, Larry Gawel Photography, Chris Headley / OmahaComputerHelp.com, Min | Day, Nebraska Arts Council, Nebraska Cultural Endowment, Rybin Plumbing & Heating, Laura and Gregory Schnackel, Sherwin Williams, Mike Sinclair, Upstream Brewing Company, Visions Custom Framing, Warren Distribution