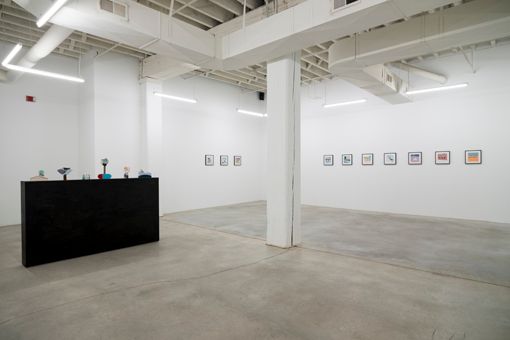 April 9–May 18, 2013
Opening Reception: April 9, 6pm–9pm
Artist Talk: May 5, 7pm
Elizabeth Ferrill is a former Bemis Center artist-in-residence who returned to Omaha in January, 2013 and produced this series of quietly critical paintings and sculptures that depict quotidian non-places in Omaha — parking lots, awnings, utility devices and bank teller drive-throughs. The works capture the paradoxical mood that characterizes these ill-considered spaces, which are nearly always afterthoughts, yet pervade our built environment.
Elizabeth Ferrill: Periphery is curated by Hesse McGraw, chief curator.
About the Artist
A native of Seattle, WA, Ferrill received her BFA in Painting and Printmaking from Cornish College of the Arts in Seattle, Washington. She received her MFA in Printmaking from the Rhode Island School of Design in Providence, Rhode Island. Ferrill has had solo exhibitions at the Armory Gallery at Virginia Tech in Blacksburg, Virginia; Gideon Gartner Gallery at Anderson Ranch Arts Center in Snowmass Village, CO; and 5x6x9 Gallery in Berlin, Germany.
Exhibitions Presenting Sponsor: Omaha Steaks
Sponsors: Justin V. Allen Design + Development, Brand Metal Works, Clark Creative Group, Davis Erection and Crane Rental & Rigging, Echo Systems, Education Power | Robert Webber, Larry Gawel Photography, Chris Headley / OmahaComputerHelp.com, Min | Day, Nebraska Arts Council, Nebraska Cultural Endowment, Rybin Plumbing & Heating, Laura and Gregory Schnackel, Sherwin Williams, Mike Sinclair, Upstream Brewing Company, Visions Custom Framing, Warren Distribution