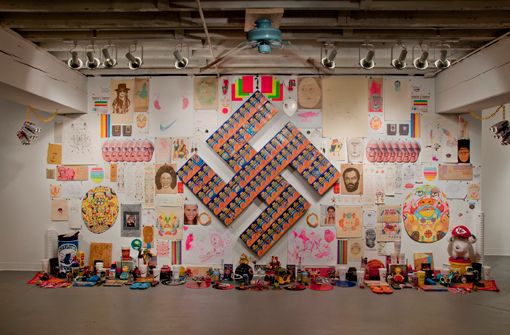 ​January 14–February 26, 2011
Opening Reception: January 14, 6pm–9pm
Artist Talk: February 3, 7pm
About the Artists:
Sculptor and painter Kenneth Adkins creates images that are haunting, arresting and utterly compelling. Whether through a luminous wedding gown or a foreboding residence, the artist communicates the depth of his emotions by using rich surface textures and layered media applications. Adkins has exhibited widely, and his work is included in private collections as well as in the Joslyn Art Museum's permanent collection.
Dan Crane is interested only in stimulating the character of those around him and putting all the pens back in the pen jar. Why do you always forget to put them away? Did you just remember the time that you were embarrassed at the party? Dan Crane doesn't mind. He likes it real. Are you feeling guilty about the socks you stole form JCPenny's? Dan Crane won't tell on you. What are you trying to learn here? You're probably already intimately familiar with Dan Crane (at least on a subconscious level, admit it). Despite that, you have no idea what he is capable of laying upon you. The wizard, the statistician, the jester; all hats Dan Crane can wear, all he is capable of dismissing as well. Fear is the mind killer. Interpretation is an option. Experimentation, an incentive. There are only so many ways to learn, and this bird don't fly solo. We'll see you there.
Victoria Hoyt illustrates the narratives, both true and mythological, that explain the human experience. She delights in pattern, free play, mixed meanings and small humor. An Omaha native, Hoyt received her B.A. from Gustavus Adolphus College and currently is an M.F.A. candidate at the University of Nebraska-Lincoln.
In the news:
'Science Fairs' by Michael J. Krainak, courtesy of The Reader, February, 2011
Exhibitions presenting sponsor: Omaha Steaks
bemis | Underground presenting sponsor: Lincoln Financial Foundation
Sponsors: Chris Headley | OmahaComputerHelp.com, Clark Creative Group, Larry Gawel Photography, Nebraska Arts Council, Quail Distributing, Sherwin Williams, The Andy Warhol Foundation for the Visual Arts, Upstream Brewing Company, Visions Custom Framing and Warren Distribution