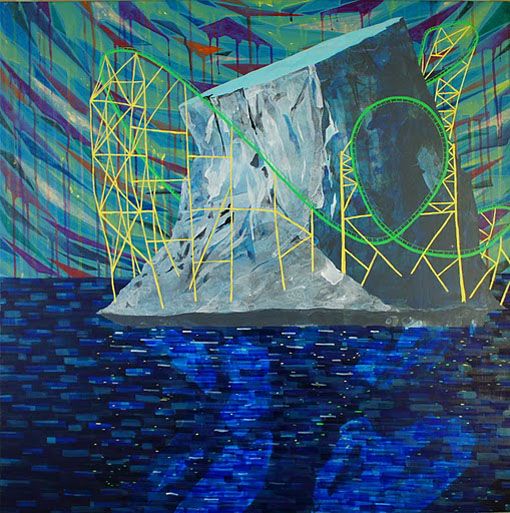 April 29–May 28, 2011
Opening Reception: April 29, 6pm–9pm
Artist Talk: May 7, 12pm

To quote the late designer Alan Fletcher, "Space is substance." This statement's poignancy is a perfect illustration of its subject: the Japanese concept of ma. Ma can be defined as an awareness of place, of objects and non-objects alike. The space between trees is equally as important as the entire forest. The Bemis Underground exhibition Nothing & Everything at Once, featuring the work of artists Nicholas Bohac and Mike Roche, looks at form and space, at the structure and influence in and around all things.
About the Artists:

Nicholas Bohac, an Omaha native, builds sprawling two-dimensional vistas. On multiple scales, his paintings evoke large fantastical places, destinations where both landscape and the nothing surrounding it can be observed. Places where all things affect and are affected. His contribution of 160 new works to Nothing & Everything at Once will cover one-half of the Bemis Underground's total wall space, forming a starry backdrop anchored by 10 large works. Bohac received his MFA from the San Francisco Art Institute and currently lives and works in San Francisco, California.
A sculptor and ceramicist, Mike Roche creates surreal environments and structures that hint towards classical architecture yet flex themselves well outside the everyday. Each work presents itself with a quiet, commanding presence, demanding the viewer investigate every inch of negative space that accompanies each melting pathway or segmented tower. His becomes a city, forest or mountain, placed for the viewer to navigate and offers the opportunity of repeated interaction. Originally from Boston Massachusetts, Roche studied at the Massachusetts College of Art and Design where he received his BFA in ceramics. He currently works as an assistant to ceramicist Jun Kaneko.
Both artists provide a personalized perspective on space, a chance to look around and through the work in order to experience the works themselves.
Nothing & Everything at Once is organized by Joel Damon, Underground curator.

In the news:
Nicholas Bohac: Consistently Changing courtesy of Omaha.net, April 26, 2011
Exhibition's presenting sponsor: Omaha Steaks
The bemis|Underground presenting sponsor: Lincoln Financial Foundation
Sponsored by: Chris Headley | OmahaComputerHelp.com, Clark Creative Group, Larry Gawel Photography, Nebraska Arts Council, Quail Distributing, Sherwin Williams, The Andy Warhol Foundation for the Visual Arts, Upstream Brewing Company, Visions Custom Framing and Warren Distribution