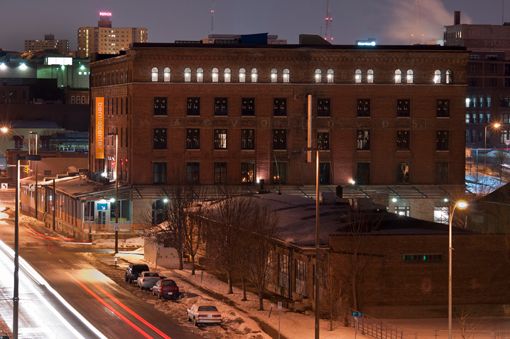 ​January 14–April 9, 2011
Opening Reception: January 14, 6pm–9pm
Artist Talk: January 29, 12pm
The Bemis Center is proud to present Another Nebraska, an exhibition of the 2010 Nebraska Arts Council Individual Artist Fellowship awardees. The nine exhibiting artists work across myriad media and contemporary art strategies. Their work spans kinetic sculpture, conceptually driven installation, meditative paintings and drawings, iconoclastic uses of clay and glass and exuberant tapestries woven with technical mastery. Collectively, the works and practices of these nine artists represent the crucial role living artists play in expanding the conventions of our state. Artists bring political nuance, social humor, intellectual rigor, cultural tolerance and a visual pulse to Nebraska. The exhibition highlights the necessity of public support for living artists and recognizes the vitality of contemporary art production in Nebraska.
Artists: 
Jamie Burmeister (Gretna), Mary Day (Omaha), Anthony Hawley (Lincoln), Michael Morgan (Lincoln), Francisco Souto (Lincoln), Therman Statom (Omaha), Peter Walkley (Omaha), Liz Vercruysse (Herman), Mary Zicafoose (Omaha, Bemis AIR 2008)
The Nebraska Arts Council (NAC) awards the Individual Artist Fellowship (IAF) every three years to visual artists living and working in Nebraska in recognition of exceptional work. In 2010, NAC awarded a total of $23,000 to nine artists. For this competitive fellowship, an external jury unfamiliar with the applicant pool awards the artists based on the merit of their submitted work, with respect to their chosen medium. The 2010 jurors were Lynn Basa, public artist/public arts consultant (Chicago, IL); Robert Manchester, senior curator, Yellowstone Art Museum (Billings, MT); and Adam Kleinman, independent curator and writer (New York, NY). In 2004, the Bemis Center began a tradition of further honoring these artists by presenting an exhibition of the awardees. This year marks the third IAF exhibition presented by the Bemis Center and its most ambitious incarnation, with works installed across 5,000 square feet of gallery space, an additional intervention that spans the building and a concurrent exhibition at the Fred Simon Gallery at the Nebraska Arts Council. This exhibition presents new work by the nine artists and has created specific opportunities for individual artists to expand their practice. The exhibition at both venues provides the public with a critical opportunity to recognize the value living artists bring to the public life of our state.
Another Nebraska is organized by Hesse McGraw, Bemis Center curator.
More information about Jamie Burmeister's project Message Matters.
Press
Another Nebraska: Bemis exhibit of NAC winning artists a unique variation on 'The Good Life' by Michael J. Krainak, courtesy of The Reader, February 17, 2011
Venues
Bemis Center for Contemporary Arts | 724 S 12th Street, Omaha, NE 68102 | Open Tuesday – Saturday 11:00am – 5:00pm
Fred Simon Gallery at the Nebraska Arts Council | Plaza Level of the Burlington Building, 1004 Farnam Street, Omaha, NE 68102 | Open Monday – Friday 8:00am – 5:00pm
Additional information at www.bemiscenter.org and www.nebraskaartscouncil.org
Exhibitions Presenting Sponsor: Omaha Steaks
Sponsors: Chris Headley, OmahaComputerHelp.com, Clark Creative Group, Justin V. Allen Design + Development, Larry Gawel Photography, Nebraska Arts Council, Quail Distributing, Sherwin Williams, The Sound Environment, The Andy Warhol Foundation for the Visual Arts, Upstream Brewing Company, Visions Custom Framing and Warren Distribution
Additional Support: Boyd Jones Construction