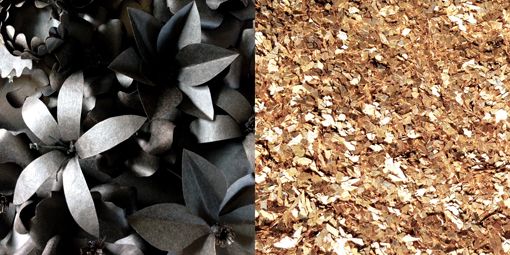 September 7–October 31, 2013
Opening Reception: September 7, 1pm–4pm
Artist Talk: September 7, 2pm
Artist Statement
I Can Grow Tall is a new body of work, by installation artist Angela Drakeford, that focuses on language primarily used by strangers. Addressing perceived identity verses actual identity, the work focuses on conversations that Drakeford is privy to because of others' misidentification.
According to Drakeford, "This body of work symbolizes all of the things that have stayed with me over the years. I reclaim statements meant to fetishize, marginalize, and disenfranchise. I Can Grow Tall is a body of work that addresses my past, present, and future."
Drakeford often creates work using non-traditional art materials. Highly process- and detail-oriented, her pieces are labor intensive and often take hundreds of hours to complete. In the past, Drakeford's work has primarily dealt with personal relationships. It has focused on the conversations between lovers and close friends. "I am fascinated by the weight that these words can have and the emotional baggage they can create. I believe that language has the power to stay with you."
About the Artist
Angela Drakeford is an installation artist working in the Omaha area. Born and raised in North Omaha, she graduated magna cum laude from the University of Nebraska at Omaha, where she received a Bachelor of Fine Arts in Sculpture. In 2012-13, Drakeford completed a fellowship with The Union for Contemporary Art. She was recently part of the Market Place of Values exhibition at the Sheldon Museum of Art in Lincoln, Nebraska. She works as an artist mentor and leads many art workshops for Omaha youth.
Press
Drakeford Explores Racial Identity with 'I Can Grow Tall' | Bill Grennan | KVNO News
Exhibitions Presenting Sponsor
: Omaha Steaks
Sponsors
: Brand Metal Works, Clark Creative Group, Council Bluffs Recycling Center, Davis Erection and Crane Rental & Rigging, Echo Systems, Education Power | Robert Webber, Larry Gawel Photography, Chris Headley / OmahaComputerHelp.com, Min | Day, Nebraska Arts Council, Nebraska Cultural Endowment, Rybin Plumbing & Heating, Laura and Gregory Schnackel, Sherwin Williams, Mike Sinclair, Upstream Brewing Company, Visions Custom Framing, Warren Distribution