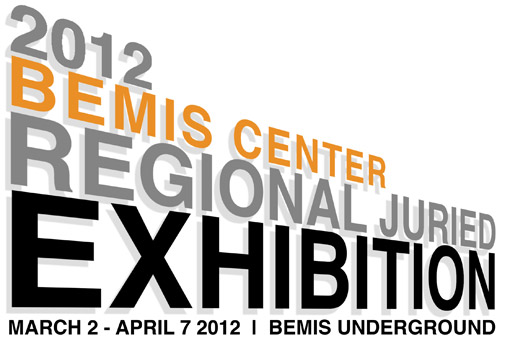 March 2–April 7, 2012
Opening Reception: March 2, 6pm–9pm
Juror's Talk: March 3, 12pm
This March, the Bemis Center Regional Juried Exhibition will return to the bemisUNDERGROUND galleries. In its second year, the exhibition has expanded eligibility to include artists living or working within 200 miles of Omaha, NE. Expanding the Bemis Center's mission to support exceptional talent, this exhibition provides the opportunity for emerging artists to present their work alongside mid-career and established artists in the cultural hub of eastern Nebraska's contemporary arts community.
The exhibition's juror, Shannon Stratton, chose 26 artists from over 250 submissions, spanning a diverse range of media, subjects and approaches. Three of the exhibiting artists will be awarded $500 and a 2013 exhibition in the bemisUNDERGROUND. Winners will be announced by the juror at the opening reception on March 2.
Juror's Award Recipients:
Gina Adams, Garry Noland and Lauren Mabry
Juror's Statement:
With around 1000 artworks to chose from, it was challenging to jury the 2012 Bemis Center Regional Juried Exhibition, but as I spent time with the submissions, certain themes and strengths seemed to emerge across career stages and mediums. The final selections reflect a diversity of experience, disciplines, and materiality with an emphasis on certain shared and overlapping themes.

One cannot draw conclusions about a region and its artists from a juried exhibition, but an atmosphere of disquiet emerged in much of the work. Anxiety underlies constrained and precarious forms, tangled marks, impassive landscapes and apprehensive bodies. Meditative patterns reflect on heritage and place. A balance is struck between precariousness and restraint, between weight and breath.

The resulting exhibition is one curator's response to the work being made (and submitted) in a region. Perhaps it expresses a more widespread, contemporary disquiet that permeates practices outside the Midwest, and outside visual art.
Exhibiting Artists
Gina Adams, Will Anderson, Phillip Chen, Jonah Criswell, Kurt Flecksing, Jacob Francois, Benjamin Gardner, Nicole Geary, Carlos Guerrero, Sue Hettmansperger, Matt Jacobs, Luke Jordan, Andrew Kaufman, Dave Lethcoe, Colleen Lucas, Lauren Mabry, Marshall Maude, Christopher Meyer, Garry Noland, Ah-ram Park, Tana Quincy, Jeremy Ripley, Patti Roberts-Pizzuto, Mattew Sontheimer, Sabrina Staires, and Arjan Zazueta.
About the Juror
Shannon Stratton is an artist, writer and curator from Chicago, Illinois. She is a founder and current Executive and Creative Director of threewalls, a not-for-profit residency and exhibition space in Chicago. Founded in 2003, threewalls has grown from a start-up exhibition space to a multi-faceted organization that supports contemporary visual arts in Chicago through solo exhibitions for regional artists, residencies, grants to artists, publications, conferences and commissioning programs. In 2010, Chicago's Newcity Magazine named Stratton one of the top five most vital people in the visual arts and last year the Chicago Tribune named her a "Chicagoan of the Year."
Exhibitions Presenting Sponsor:
Omaha Steaks
UNDERGROUND Sponsors:
Larry Gawel Photography, Chris Headley / OmahaComputerHelp.com, Sherwin Williams, Visions Custom Framing, Warren Distribution
Questions
Please email Underground Curator Joel Damon - joel@bemiscenter.org