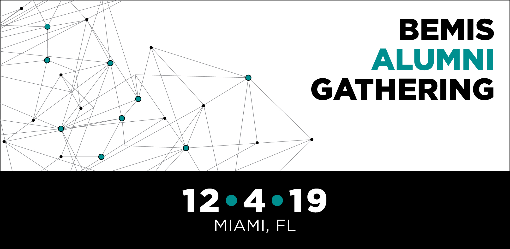 Are you attending Miami Art Week? Please join us for a cocktail party to connect with fellow 
Bemis alums and view On The Road ll at Oolite Arts! We look forward to seeing you. 

BEMIS ALUMNI GATHERING
December 4, 2019 | 5:30–7:30 PM
Oolite Arts
924 Lincoln Road, Suite 205
Miami Beach, FL

Past artists-in-residence and exhibiting artists can stay connected and learn about new resources available to alumni and upcoming alumni events by joining our Facebook group–Bemis Center for Contemporary Arts Alumni.
Bemis Alumni Participating in Miami Art Week
TIM BERG in collaboration with Rebekah Myers 
Dean Project
deanproject.com


JILLIAN MAYER
David Castillo Gallery 
davidcastillogallery.com

HELINA METAFARIA
Gatekeepers performance at Prizm Art Fair / PRIZM PERFORM
prizmartfair.com

ADAM MILNER 
UNTITLED. Miami Beach
with David B. Smith Gallery 

PAULA WILSON
UNTITLED. Miami Beach
with Denny Dimin Gallery 
 
Participating in Miami Art Week? Send the details to alumni@bemiscenter.org and we will add you to this list!