Bemis Center for Contemporary Arts is thrilled to offer its first Alumni Residency open to any artist who has participated in Bemis Center's Residency Program or has exhibited at Bemis since the organization's founding in 1981. Tom Comitta was chosen to receive a 4–6-week residency at Bemis Center in 2020, including financial support, to continue his research and work from an international pool of 46 artists.
TOM COMITTA
FALL 2020 ALUMNI ARTIST-IN-RESIDENCE
Tom Comitta, based in Los Angeles, is a writer, multimedia artist, performer, and designer. He is currently working on a novel entitled The Nature Book that includes collages of nature descriptions from 300 novels into a single, 85,000-word nature novel; there are no words of his own. During his alumni residency, Comitta plans to continue this project, which he began at Bemis in 2016, by recording it as an audiobook, a sound installation for a future art show, and as material for live collage in collaboration with musicians building on his ongoing practice in vocal performance and sound poetry. Outside of the recording studio, Comitta will work on his next book, a follow up to The Nature Book and a collage of all of the other patterns, apart from nature descriptions, that he has found in how fictional narratives are constructed.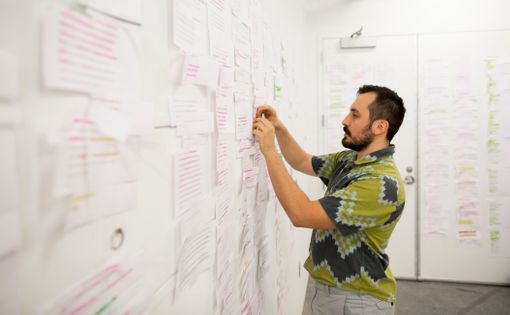 Alumni Residency applications were reviewed and finalists were selected by a panel including Chris Duncan, Artist, Curator, and Publisher of LAND AND SEA, Oakland, CA; Francesca Fuchs, Artist, 2D Department Chair Glassell School of Art, Museum of Fine Arts Houston, Houston, TX; and Fred Stonehouse, Associate Professor, Art Department, University of Wisconsin- Madison, Madison, WI. Finalists were then reviewed and chosen by Kimberli Gant, Ph.D., McKinnon Curator of Modern & Contemporary Art, Chrysler Museum of Art, Norfolk VA; Jennie Lamensdorf, Bay Area Lead of the Facebook Art Department, Co-Founder of Forward Union, and independent curator, San Francisco, CA; and Humberto Moro, Deputy Director and Senior Curator, Museo Tamayo, Mexico City, MX and Adjunct Curator, SCAD Museum of Art, Savannah, GA.