14th Annual Art Auction | Auction Results
Posted on 10/08/2012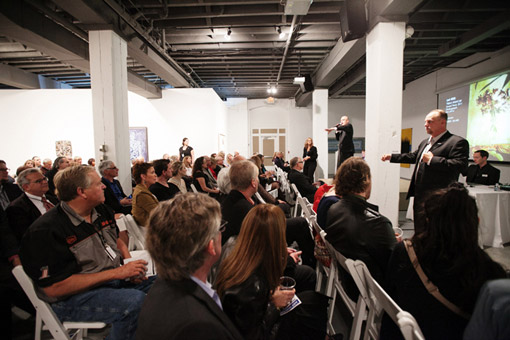 The Bemis Center for Contemporary Arts 14th Annual Art Auction was an outstanding success, with over 1500 collectors, donors, artists and art lovers filling the galleries during the auction events. More than 220 international, national and local artists contributed more than 300 artworks for this year's auction.
The fundraiser grossed over $500,000 throughout the four-week auction exhibition and event, making it the most successful art auction to date. Every dollar raised is invested in the Bemis Center for Contemporary Arts' programs, which continually support artists of exceptional talent.
The auction would not be possible without the generous donations from numerous foundations, businesses, individual patrons, members and our board of directors. Also, thank you to the volunteers and Bemis Center staff whose tireless efforts helped make this year's event such a success.
AUCTION RESULTS
Auction Grand Total Raised: $501,000
Attendance Grand Total: 1556 (over three events)
Presenting Sponsors:
Laura and Greg Schnackel
Digital Bidding Sponsor:
Omaha Steaks
Auction Sponsors:
Karen and Robert Duncan, Betiana and Todd Simon, Annette and Paul Smith, Carol Gendler/Marathon Realty, Teresa and David Rogers
Auction Supporters:
Clark Creative Group, LIV Lounge, Nebraska Arts Council, Omaha Steaks, Proxibid, Quail Distributing, The Reader, Sherwin Williams, The Sound Environment, Upstream Brewing Company, Visions Custom Framing, Warren Distribution