2012 Regional Juried Exhibition awards announced at opening reception
Posted on 02/02/2012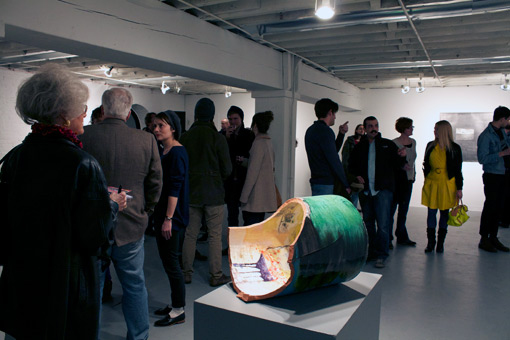 Over 400 guests packed the bemisUNDERGOUND last Friday for the opening reception of the 2012 Bemis Center Regional Juried Exhibition, which features the work of 26 artists from around the Midwest.
During the event, juror Shannon Stratton awarded artists Gina Adams, Garry Noland and Lauren Mabry the Juror's Award. All three artists will receive a $500 cash prize and a 2013 exhibition in the bemisUNDERGROUND.
Kurt Flecksing's interactive S'more Cart - essentially a portable campfire with an attached s'more creation station - was also a huge hit. Donations support artists who are using shared public spaces and nontraditional approaches to call attention to social issues.
The Bemis Center launched this exhibition to highlight emerging artists, seek out fresh perspectives and establish new connections across contemporary practices within the region.
The exhibition runs through April 7, 2012.