Bemis Center for Contemporary Arts named recipient of inaugural Robert Rauschenberg Foundation grant
Posted on 01/03/2012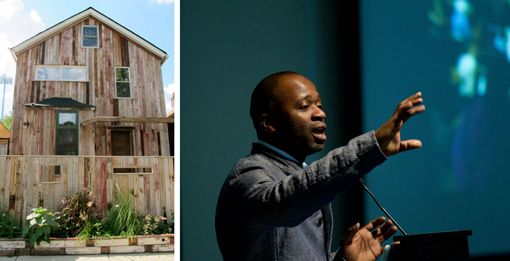 The Bemis Center for Contemporary Arts is proud to announce it is among the first grant recipients of the Robert Rauschenberg Foundation's new Artistic Innovation and Collaboration grant program.
The foundation launched the grant program in 2011 to promote the values advanced by artist and activist Robert Rauschenberg over his lifetime. Specifically, the program provides support for multi-disciplinary collaborations between artists to make new work, advance creative exploration, or push forward new artistic forms.
The $50,000 grant will support Chicago-based artist Theaster Gates' Town Hall project, an effort to develop a new cultural space for North Omaha. The project will renovate an existing property, whose restoration and subsequent programming will positively impact the surrounding urban and social fabric of North Omaha.
Omaha is a segregated city that houses extreme disparities between class and opportunity. Omaha claims the greatest number of millionaires per capita, yet is also home to the highest percentage of black children living in poverty of any city in the country. These demographic conditions are starkly present in North Omaha.
In response, Gates has approached the Town Hall process with the hybrid perspective of an urban planner, artist, developer and community organizer. Gates is interested expanding the definition of sculpture to include whole buildings, 6 neighborhoods and diverse communities. "I want to create a place and find the group of people that can create solutions for North Omaha internally," he said.
The Town Hall project is rooted in the defining characteristics of Robert Rauschenberg's legacy —fearlessness, innovative collaboration, and cross-disciplinary exploration. "We are delighted to be able to support projects that are pushing the boundaries of artistic practice and helping artists and cultural organizations investigate new territory," said Christy MacLear, executive director of the foundation said.
Town Hall is curated by Hesse McGraw, Bemis Center chief curator.
SPONSORS
The The Town Hall project is supported by the Robert Rauschenberg Foundation's Artistic Innovation and Collaboration Program, which supports fearless and innovative collaborations in the spirit of Robert Rauschenberg. Town Hall process and project are also supported by the Joyce Foundation and Harpo Foundation.
ABOUT THE BEMIS CENTER
The Bemis Center for Contemporary Arts was founded in 1981 by artists, for artists. As an artist-centered organization, the Bemis Center's sole mission is to support contemporary artists of exceptional talent. In this spirit, the Bemis Center seeks to perpetually give the institution to artists working at the forefront of contemporary culture. In addition to our international artist-in-residence program, our exhibitions, projects and community arts programs provide direct support to artists' process and catalyze their work to engage and challenge the public.