LISTENER ROCKED THE bemisUNDERGROUND
Posted on 06/26/2011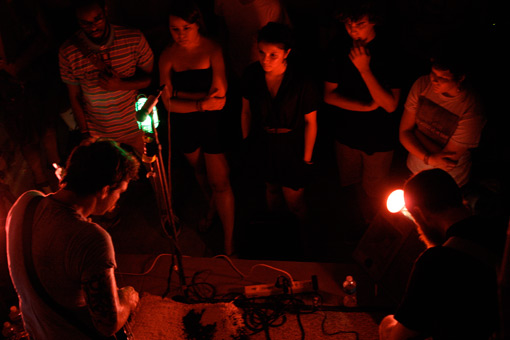 It's called the bemisUNDERGROUND for a reason.
Like the space itself, experimental indie-rock band Listener has certainly worked hard to cultivate a subversive, underground reputation. With their show at the Bemis Center on Saturday, July 16, the band spearheaded a return of music to the subterranean gallery.
And what a return it was. A crowd of over 150 music fans crowded into the bemisUNDERGROUND to hear Listener's unique brand of "Talk Music," essentially a modern day mash up of lyrical poetry and garage rock.
Bathed in a red glow, lead singer Dan Smith and guitarist Chris Nelson's songs of the depressed, lost and ignored took on an eerie quality – projected images of old science fiction films accompanying them onstage like ghosts.
For a moment, it seemed the UNDERGROUND had become the underworld.
Thanks to Kalee Olson for the photos below.