TUGBOAT PRESENTS & THE bemisUNDERGROUND ANNOUNCE THE THREE SATURDAYS ART SERIES, JANUARY 5th, 12th & 19th EACH SHOW ONE NIGHT ONLY, EXCLUSIVELY IN THE bemisUNDERGROUND
Posted on 10/03/2007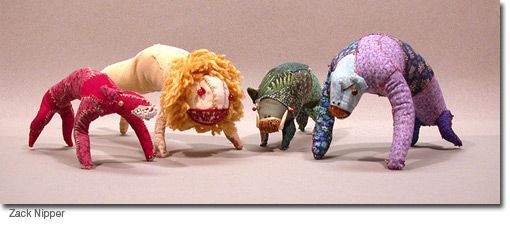 Part I kicks off this Saturday, January 5th, 7:00-10:00 p.m. with two artists:
Join Grammy nominee Zack Nipper as he showcases original artwork created for Bright Eyes album covers. Nipper�s been nominated for Best Recording Package of 2007 for his design of Bright Eyes� Cassadaga. It�s no wonder he�s going to be included in the Rock and Roll Hall of Fame�s collection! View original drawings, sculptures, appliqués, needlework and wallpaper (cut from his own basement wall) that showed up on several albums.
Guest curator Dan Siedell presents writer Anthony Hawley�s visual arts debut. Featured works include paintings and mixed media that incorporate glass mirrors and multi media video. Siedell is a UNO professor & former Sheldon Memorial Art Gallery curator, so when a writer & a curator join forces the resulting exhibition is anything but predictable.
STAY TUNED FOR PARTS 2 & 3!