Rediscover Omaha Through "Discover Omaha: Mapping Our Cultural Landscape"
Posted on 02/28/2007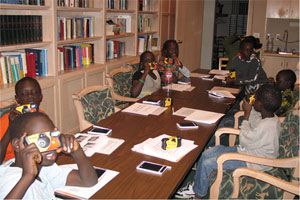 WHAT: Art 4 Omaha Project 5 – Discover Omaha: Mapping Our Cultural Landscape
WHO: Bemis Center, sixteen local community groups and professional photographers
WHEN: January 2007-March 2007
WHERE: Qwest Center Omaha
The Bemis Center for Contemporary Arts is pleased to announce the fifth project of an on-going series of successful Art 4 Omaha public art initiatives. "Discover Omaha: Mapping Our Cultural Landscape" Art 4 Omaha Project 5 will create a kaleidoscope of creative images that celebrate Omaha and its diverse communities. Sixteen local community groups will photograph the people and places throughout the city that make Omaha a wonderful and dynamic place to live, work and play. Participants will focus on capturing a wide-range of community images including Omaha's geography, culture and architecture. Through taking photographs of ordinary days as well as special events, gatherings and celebrations, participants will share their individual perspectives on how they see and experience Omaha. These photos will therefore provide a way for visitors, residents and participants alike to "Discover Omaha" through varied viewpoints that showcase Omaha's diversity.
"Discover Omaha" is a two-part project that will result in a dramatic 80-foot-long photomontage composed of more than 4,000 images. One photographer from each community group will be selected for his or her unique and striking ability to portray Omaha. Participants will then work with professional equipment and the guidance of a professional photographer to recapture their images in a large-scale printed format. This will result in sixteen 6x8- foot "Discover Omaha" images to be displayed at Qwest Center Omaha in the highly visible stairwells and the hallway on the Meeting Room Level of the Convention Center. The process for Discover Omaha is similar to the Bemis Center's successful Art 4 Omaha Project 2 "Omaha's Cultural Quilt," completed in 2005, which resulted in a large-scale banner featured on the exterior of Qwest Center Omaha. The Bemis Center will coordinate and manage all aspects of this community outreach public art program. Project 5 would not be possible without the generous support of The Metropolitan Entertainment & Convention Authority (MECA), Discover Omaha's Presenting Sponsor.
Natalie Linstrom, the Bemis Center's Community Arts Director, says: "Art 4 Omaha Proj ect 5 is particularly exciting, because we get to see Omaha from several different perspectives. What one person sees as the defining image of Omaha is completely different from another person's. I can't wait to see the diversity of photographs and the creative interpretations that the participants are going to bring to Discover Omaha."
The Bemis Center for Contemporary Arts created the Art 4 Omaha initiative to raise public arts awareness by collaborating with community members in the creation of spectacular artwork for display in prominent locations. By directly involving the community with creating public art, the Art 4 Omaha projects have significant civic impact, both culturally and educationally. The close involvement in the creative process enables people to take a leading role in the art that enlivens Omaha's cityscape, which in turn creates a sense of personal ownership in the contemporary arts culture of our city. For this reason, the Bemis Center is truly proud that Art 4 Omaha means art for everyone. To become a Discover Omaha sponsor or to become a Discover Omaha volunteer, please contact Natalie Linstrom, the Bemis Center's Community Arts Program Director, at 402.341.7130 x 25; Natalie@bemiscenter.org. To learn more about Discover Omaha Art 4 Omaha Project 5 and the Bemis Center's Art 4 Omaha public art initiative, visit www.art4omaha.org.
Participating Groups:
All Our Kids, Inc.
Boy Scouts of America, Mid-America Council, Pack 365
Boys & Girls Club of South Omaha
Boys & Girls Club of North Omaha
Boys & Girls Club of Carter Lake
Camp Fire USA Midlands Council
Cooper Village
Girls Inc. Omaha
Hope Center for Kids
Omaha Housing Authority Youth Program
Pacesetter Academy
Salvation Army
United Way of the Midlands Youth Leadership Committee
Uta Halee Girls Village
Very Special Arts
Presenting Sponsor:
Metropolitan Entertainment & Convention Authority
Project Sponsors:
Art-Fac Graphics Ltd
Distefano Tool & Mfg. Company