See How Artists Do March Madness: Slide Jam at the Bemis Center for Contemporary Arts March 2, 2006 7:00 - 8:00 p.m.
Posted on 12/19/2005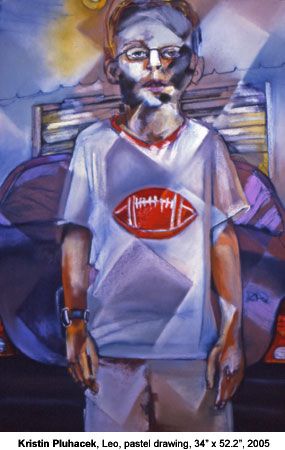 March Madness: It's a time of fast action, breathtaking performances and split-second timing. And artists show us just how it's done during the Bemis Center for Contemporary Arts' spring Slide Jam on March 2, 2006 at 7:00 p.m. Experience the rush as local and regional artists show us what they're creating right now. Enjoy the thrill as you get a front row view of the hottest art in town. And there are no hefty ticket prices to sit courtside as artists bring the magic and awe the crowd. Slide Jam is FREE and OPEN to the public.
During Slide Jam, artists have only five, fast-paced minutes to give a presentation of their latest work. In turn, these artists invite another artist to give their spin on their work for five minutes. And what happens if an artist goes beyond those five minutes? The Slide Jam ref sounds the buzzer, and the next artist takes the court. You have to pay close attention during Slide Jam to catch all the different artists, media and artistic interpretations.
With so much fast action, the Bemis Center's Slide Jam this March is a slam dunk as the fastest game in town.
Slide Jam Artists:
James Bockelman
Jim Butkus
Gary Day
Adam Fogarty
Kim Goldberg
Becky Hermann
Duncan Joyner
Marlene Mueller
Kristin Pluhacek
Kenny Walton
Media & Press Inquiries:
Kim Carpenter, Communications Coordinator
Tel: 402.934.8059; Email: kim@bemiscenter.org
Cary Tobin, Residency Coordinator:
Tel: 402.341.7130 x12; cary@bemiscenter.org