Concepts, Commodities & Connections: First Thursday ArtTalk in February at the Bemis Center for Contemporary Arts Thursday February 2, 7:00 pm
Posted on 12/19/2005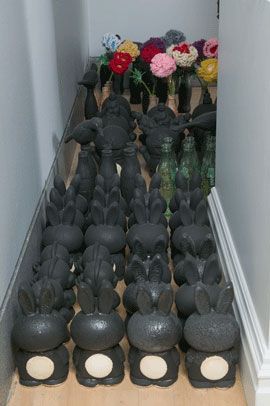 Science and commerce might seem like unlikely sources for artistic inspiration, but during the Bemis Center for Contemporary Art's First Thursday ArtTalk in February, Artists-in-Residence Yoko Inoue and Sarah Gamble discuss how they create work that examines and reflects these serious subjects. The Center's First Thursday ArtTalk takes place on February 2 at 7:00 p.m., and as always, this event is free and the public is warmly invited to attend.
Sarah Gamble received her BFA from the Corcoran School of Art in Washington, DC and an MFA in Painting from the University of Pennsylvania in Philadelphia. She has been a resident at the Vermont Studio Center, and she has exhibited her work widely.
The artist uses scientific phenomena to produce the images and creations in her paintings and drawings. She explores concepts and connections of occurrences of radiant energy and landscape and their ability to resound with one another.
Yoko Inoue creates large-scale installations that are multi-disciplinary in nature. The artist received her BFA and MFA from Hunter College of the City University of New York. She attended the Skowhegan School of Painting and Sculpture in 2000. Inoue has exhibited her work nationally and internationally, including at the Brooklyn Museum of Art, Sculpture Center and the Bronx Museum in New York. The artist's work explores issues involving cross-cultural merging, and projects include installations that consist of thousands of ceramic-cast Buddha figurines, lawn ornaments and other "commodified" cultural icons derived from urban street commerce. Through mass repetition and combinations of the sacred and the banal, she investigates the nexus between commerce and spirituality, and her installations emerge as provocative commentaries on our contemporary material culture.
Whether scientific phenomena or contemporary material culture, both artists raise interesting and thought-provoking questions about the world in which we live. Come to the Bemis Center for Contemporary Arts during the first Thursday in February and join us for an ArtTalk certain to make you look at your surroundings differently.