Space, Shape and Series: First Thursday ArTalk in 2006!
Posted on 12/17/2005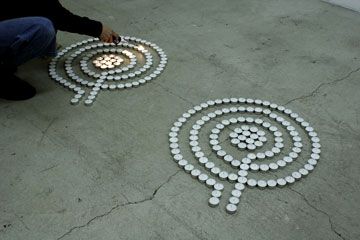 During the New Year, we all make resolutions. What better path to self improvement than taking in an evening of art and culture? During the Bemis Center for Contemporary Art's First Thursday ArtTalk in 2006, Artists-in-Residence John Fraser, Megan Lindeman and the collaborative duo nicole + ryan present work that prompts thought-provoking reflection on contemporary life, how we interpret our spaces and the shapes that fill them and material culture. The Center's First Thursday ArtTalk takes place on January 5 at 7:00 p.m. As always, this event is free and the public is warmly invited to attend.
John Fraser's work explores formal and material involvement. Says the artist: "I have always felt free to move toward dimensional things as well, perhaps in combination and concert with site…Space, 'spaciality'/architectural concerns are of primary interest." The artist combines found objects and assorted materials and employs a variety of techniques, making his art difficult to categorize. Fraser's quiet and restrained vision results in refined, meditative works that contain an intensity of feeling in the seemingly simple, elegant, abstract forms. The artist received his BA from Roosevelt University, Chicago, IL and an MFA from Northern Illinois University, DeKalb. Fraser has exhibited his work for over two decades, and he is represented by Roy Boyd Gallery, Chicago, SWCA, Cumberland, Bentley Projects, Phoenix, AZ and Cumberland Gallery, Nashville, TN. The recipient of several Illinois Arts Council grants and an Arts Midwest/NEA Regional Visual Arts Fellowship, his work appears in numerous museums and public collections throughout the US, including in the Cincinnati Art Museum, Cincinnati, OH, the Mississippi Museum of Art, Jackson, MS, Deloitte & Touche, Citicorp Services and Saks Fifth Avenue.
Collaborative duo nicole + ryan use a wide range of media and are particularly interested in ideas of mapping that create provocative trajectories through a series of related conceptual spaces. Their current work explores issues of site specificity, and they are researching a series of interdisciplinary projects that relate to ideas involving cultural mobility, urbanism, and desire. Both artists received their BFAs from Simon Fraser University in Vancouver, Canada. They have exhibited their work widely, including international shows in Oslo, Berlin and Istanbul.
Megan Lindeman uses an oval shape as the central element in both the formal and conceptual elements of her work. For her, the oval serves as a female signifier as well as represents a place that is at times dense and one that is void.
Lindeman received her BFA in painting from the Rhode Island School of Design in Providence, RI. While studying in Italy, she worked as both a studio and painting assistant. In the fall of 2005, her untitled painting won First Place in the abstract category of the Millard Sheets Gallery Contemporary Fine Art Competition and Paint Out.
These artists all prompt us to consider our environments. Make a New Year's resolution that's easy to keep and join us at the Bemis Center for Contemporary Arts during the first Thursday in January and learn about how art reflects our contemporary culture.
The Bemis Center for Contemporary Arts is located at 724 S. 12th Street, just south of the Old Market, Omaha's historic district. For more information, visit www.bemiscenter.org or call 402.341.7130.
This ArtTalk is generously sponsored by the Noodle Zoo, located in the heart of historic Dundee at 4950 Dodge Street. Owned by Laura and Mark Jost, the Noodle Zoo is open Monday – Friday 11:00 a.m. to 9:00 p.m. and Saturdays from 10:00 a.m. to 3:00 p.m. For more information, call 402.932.9971 or visit www.noodlezoo.com/omaha.