Behind Closed Doors: Artist-in-Residency Open Studios December 17 12:00 - 3:00 p.m.
Posted on 11/29/2005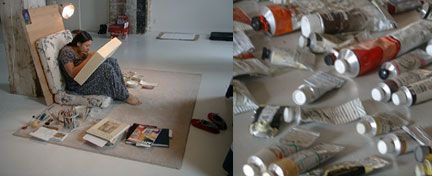 Have you ever wondered what goes on behind the closed doors of an artist's studio? How do artists go about their day-to-day job of creating art? What does it mean for a painter to prepare a canvas? How do sculptors begin working on their forms? What's involved with making installation art? How does a photographer find subject matter? These are exactly the kinds of questions the Bemis Center for Contemporary Arts answers during our Artist-in-Residency Open Studios on Saturday, December 17, from 12:00 noon until 3:00 p.m. For Open Studios, Studio Tours take place at 12:00 noon & 1:00 p.m., and visitors can meet in the Bemis Center's lobby for a tour guide. An on-going Open Studios Reception honoring the Artists-in-Residence and studio visitors takes place in the Bemis Center's second floor Installation Gallery and includes hot cocoa and holiday cookies. This event is FREE, and the public is warmly invited to attend.
Through our internationally acclaimed Artist-in-Residency program, artists from all over the world come to the Bemis Center to create art in a supportive community where they can establish networks and share ideas. And they are just as eager to share these ideas with the public. After all, the majority of art lovers never have the opportunity to see how an artist works. But Open Studios provide an up-close and personal introduction to what some of today's most talented contemporary artists are creating right now. Best of all, you can talk with the artists and find out directly from them how they conceive and create their work. Cary Tobin, the Bemis Center's Residency Director, observes: "Sometimes people can be intimidated by contemporary art and feel like they can't understand it. But Open Studios are a perfect way to get past that. People can talk directly with the artists and learn all about the art-making process."
Escape the holiday crowds at the malls and take a break enjoying contemporary artworks and the artists who create them. Join us at the Bemis Center for Contemporary Arts on December 17 and experience just what goes on behind closed studio doors.