NOVEMBER ARTALK: Exploring Everyday Life, Democratic Ideals and the Universality of Art: First Thursday ArtTalk November 3, 2005 7:00 - 8:00 p.m.
Posted on 10/02/2005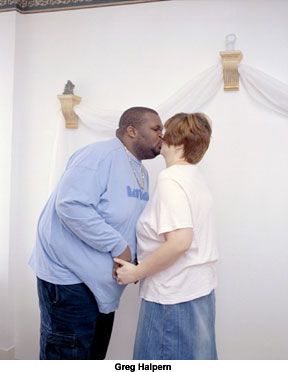 One artist examines life in everyday America; the other focuses on democratic ideals; and the third explores how art universally touches everyone. These are three distinct approaches. But they all involve insightful exploration of how we live our lives. On Thursday, November 3, at 7:00 p.m., Artists-in-Residence Greg Halpern, Heidi Hesse and Hajime Mizutani discuss their art and the creative person during the Bemis Center for Contemporary Art's First Thursday ArtTalk. As always, this event is free and the public is warmly invited to attend.
For the past two years, Greg Halpern has been developing a book featuring photographs taken in his hometown Buffalo, NY, and he is expanding his work to include two other American towns, including Omaha. The artist views the American city as an organic creature, a fighting, striving organism that shows strength and resistance in the face of hardship. Halpern received his BA in History and Literature from Harvard University and an MFA in Photography from the California College of the Arts. Author of the critically acclaimed "Harvard Works Because We Do," Halpern has taught at institutions such as Harvard and the University of Berkeley, and his work has been reviewed in several publications including Publisher's Weekly and the New York Times Book Review. He has also exhibited in solo shows, and he has received several prestigious awards, including grants from the LEF Foundation and the Ella Lyman Cabot Trust.
Heidi Hesse's work explores the dynamics of expectation and responsibility inherent in the "inalienable rights" of "Life, Liberty and the Pursuit of Happiness" provided for in the American Bill of Rights. Currently, the artist is in the process of creating a series of new sculptural works drawn from the writings of the Founding Fathers. Hesse holds an MFA in Sculpture from Ohio State University and a BA from Arizona State University. She has received several grants and awards, including the Excellence in Sculpture Award from Arizona State University. She has also been an Artist-in-Residency at the National Museum of Contemporary in Seoul, Korea and Multiviseo Multimedia in Frankfurt, Germany, and her work has appeared in numerous solo and group shows. Hesse's sculptures are included in both public and private collections, such as the Museum of Contemporary Art in Tucson.
Through his art, Hajime Mizutani seeks to express the energy that shapes mankind as natural phenomena. To this end, he seeks to share energy with others through his artwork, which largely consists of delicate paper-based sculptures and installations. In reflecting on his work, the artist says: "Humans see 'something' by letting an image of an object into their brain and collating it with fragments of stored memories and experiences that have accumulated throughout their lives." Mizutani earned both a BFA and MFA from Tama Art University in Japan. In 2003, the artist was selected in the Hachiouji City YUME Museum Art Competition in Tokyo and received the Kinin Art Award. Most recently, Mizutani was a resident at the Aomori Contemporary Art Centre, and his work has been reviewed in INAX ART NEWS.
These three artists all offer unique perspectives on how we live and experience our lives. Join us at the Bemis Center for Contemporary Arts during the first Thursday in November and learn about their compelling artwork.