Saturday July 9th at 12:00 noon Omaha's Cultural Quilt is publicly unveiled
Posted on 06/14/2005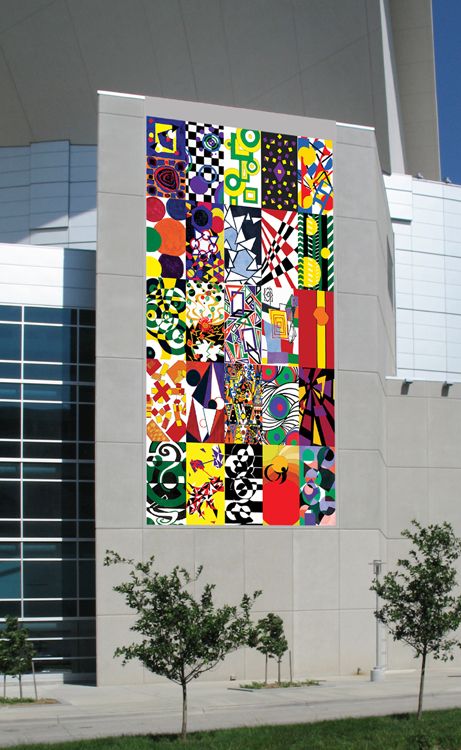 A Banner Day for Omaha's Cultural Quilt:
The Bemis Center Announces Unveiling Ceremony at Qwest Center Omaha
OMAHA, NE–
The Bemis Center for Contemporary Arts and Qwest Center Omaha are proud to announce the official debut of Omaha's Cultural Quilt on Saturday, July 9th, at 12:00 noon, at Qwest Center Omaha. All of Omaha is invited to the grand Unveiling Ceremony that will introduce the Cultural Quilt to the entire city. This event is free, and the public is warmly invited to attend and be a part of the celebration.
The Bemis Center for Contemporary Arts created the Art 4 Omaha initiative to raise public arts awareness by collaborating with community members in the creation of spectacular artwork for display in prominent locations. By directly involving the community with creating public art, the Art 4 Omaha projects have significant civic impact, both culturally and educationally. With this in mind, the Bemis Center specifically designed the Cultural Quilt project in partnership with Qwest Center Omaha, to involve young artists directly with the creation of public art. Twenty-five high school and community groups from around Omaha collaborated to create the artwork featured on the 30-foot-wide by 60-foot-tall banner installed just south of the 10th Street Arena Entrance at Qwest Center Omaha. Omaha's Cultural Quilt welcomes visitors into downtown Omaha and celebrates our city's rich diversity and cultural heritage with vibrant images and colorful symbols. Just as Qwest Center Omaha serves as one of our community's main gathering places, it's fitting that the city's youth has gathered together to create this powerful, united symbol.
Come and join Qwest Center Omaha and the Bemis Center for Contemporary Arts at Qwest Center Omaha on Saturday, July 9th, and see how Omaha's Cultural Quilt unfolds.
Art 4 Omaha: Project 2 Cultural Quilt Participants:
Bellevue East High School
Blackburn High School
Boy Scouts of America Troop #91
Boy Scouts of America Troop #405
Boys & Girls Clubs Of Omaha-Carter Lake
Boys & Girls Clubs Of Omaha-South Omaha
Brownell Talbot
Bryan High School
Camp Fire USA Midlands Council
Central High School
Cooper Village
Daniel J. Gross Catholic High School
Girls Inc.
Hope Center For Kids
Millard South High School
Omaha Housing Authority Youth Program
Pacesetter Academy
Papillion-La Vista South High School
Roncalli Catholic High School
South High School
Thomas Jefferson High School
United Way Of The Midlands Youth Leadership Committee
Uta Halee Girls Village
VJ & Angela Skutt Catholic High School
Westside High School
Art for Omaha Project 2 Cultural Quilt Sponsors:
Airvision
American Lift & Sign Service
Ameristar Casino
Anonymous donation In Memory of Mary Beth Schmidt-Fogarty
ART-FAC Graphics Ltd
Buland Group
Clark Creative Advertising
Crane Rental & Rigging
Great Western Bank
Vickie & Paul Hagen
HDM Corp
InfoUSA
Lockwood Development
Malone & Company
Nebraska Furniture Mart
NEON Products Company, Inc
Sharee & Murray Newman
Omaha Magazine
Omaha Steaks
Oriental Trading Co.
PDM Inc.
Qwest Center Omaha
Annette & Paul Smith
Speedway Properties
Stinson Morrison Hecker LLP
The Charles & Mary Heider Family Foundation
The Reader
The Terri & Phil Schrager Foundation
United Way of the Midlands
US Bank
Waitt Outdoor
Warren Distribution