JULY 7, 2005 ARTTALK: Beyond Standard Modes
Posted on 06/13/2005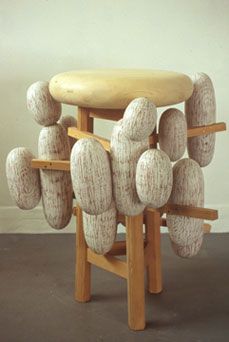 One artist creates contemporary art by deriving inspiration from very different sources, as tattoos and medieval manuscripts. The other uses the traditional means for presenting sculptures in museums to create art in and of itself. On Thursday, July 7, at 7:00 p.m., Artists-in-Residence Christopher Romer and Emily Joyce will discuss the origins of their inspiration and their artistic interpretations during the Bemis Center for Contemporary Art's First Thursday ArtTalk. As always, this event is free and the public is warmly invited to attend.
Christopher Romer creates a series of large, freestanding pieces, focusing on wood as his primary raw material. The sculptor uses wooden trestle tables, benches and scaffolding to raise his forms off the ground in order to replace the standard museum display strategy of placing sculptures onto pedestals. Romer received his BFA in Painting from the Chelsea School of Art in London and an MFA in Sculpture from the Art Institute of Chicago. The artist is the recipient of numerous grants, including a Fulbright Hays Grant to Germany and two prestigious Pollack-Krasner Foundation Grants. He was also an Artist-in-Residence at the Bemis Center in both 1995 and 1998. The sculptor has shown his work extensively, and his art is included in the collections of Northwestern University and the Delfina Studio Trust among others. Romer is currently an adjunct instructor in the sculpture departments of New York University and the Rhode Island School of Design.
Emily Joyce creates large-scale works inspired by images that tell a story, such as tattoos, comics and ancient Codices, unbound, illustrated manuscripts and scrolls that often contained legal edicts. The painter received her BFA from the Rhode Island School of Design and has studied at the Glasgow School of Art in Scotland and attended the Core Program Fellowship in Houston, where she received the Eliza Prize. The recipient of the Kimbrough Grant from the Dallas Museum of Art, Joyce's work is also part of the permanent collection of the Museum of Fine Arts in Houston. The artist has exhibited her art widely throughout the United States, with solo shows in several cities including New York and Las Vegas.
Join us at the Bemis Center for Contemporary Arts during the first Thursday in July and discover how these artists derive inspiration from unlikely sources to create their unique works.