One Dove For Breaking: One Heart in the Making - Releasing Ceremony with Leslie Iwai, Saturday, July 9 at 12:30 p.m.
Posted on 06/09/2005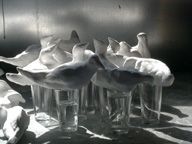 For centuries, doves have symbolized peace. But for artist Leslie Iwai, they can also carry and transform grief, turning personal pain into personal peace. She takes this idea to a new and unique level with her series of Releasing Ceremonies scheduled for Saturday, July 9 and August 6 at the Bemis Center for Contemporary Arts. All the Releasing Ceremonies take place at 12:30 p.m., and the public is invited and encouraged to attend this free and open event.
As the first recipient of the Bemis Center for Contemporary Arts' Community Artist Fellowship, which culminates in her solo exhibition Chambers: Gleaning in Cracks of Light on view through August 13, 2005, Iwai explores the idea of transforming grief into joy. The Art Director for the Hope Center for Kids and adjunct professor at the University of Nebraska at Omaha's Fine Arts Department utilizes the dove – iconic for its inherent, powerful symbolism – to communicate the context of her three-part progressive performance and installation. Iwai's exhibition begins with a web site that collects anonymous confessions, the artist's computer acting as a silent, impassive receptor for expressions of sorrow and remorse. She then transcribes these confessions onto red rose petals – one word per petal – and inserts them into the hollow bellies of approximately 700 doves. These doves are installed on a floor lit from below, each keeper of sorrow held aloft by clear glasses. During the interactive Releasing Ceremonies, the public's participation becomes critical. Each person receives "a dove for breaking," which they, in an act symbolic of redemption, release from one of the Bemis Center's upper story windows. She gathers the shattered bodies to bandage them back together, transforming the broken pieces into the form of a human heart. These broken but mended hearts will reappear on the floor where light will shine even more brightly through the cracks and fissures, demonstrating how pain can turn into joy, sorrow into acceptance. Don't miss this unique opportunity to participate in Leslie Iwai's artistically cathartic Breaking Ceremonies. Hundreds of doves may be broken, but many more hearts will be restored.