Have a Close Brush with An Artist: Artist-in-Residency Open Studios At the Bemis Center for Contemporary Arts, Saturday, July 23, from 12:00 noon - 3:00 p.m.
Posted on 06/01/2005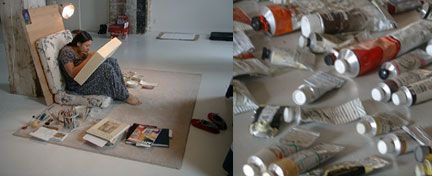 When most people think of an artist's studio, they immediately picture the genius toiling away in a cold attic, consumed in a solitary and lonely pursuit surrounded only by canvas, brushes and innumerable tubes of paint. Obviously, these people have never visited the Artists-in-Residency studios at the Bemis Center for Contemporary Arts. Through our Artist-in-Residency program, artists from all over the world create art in a supportive community where they can share ideas and establish networks. It's an exciting time for many artists – not just because they have time to focus exclusively on their art, but because they can be with other artists and offer support and encouragement. And now you can share in this excitement. Join us on Saturday, July 23, from 12:00 noon until 3:00 p.m. for our Artist-in-Residency Open Studios. The majority of art lovers never have the opportunity to see an artist's work in progress. But you can get an up-close and personal look at what some of today's most talented contemporary artists are creating right now. And the best part is you can talk with the artists. Cary Tobin, the Bemis Center's Residency Coordinator, observes: "Sometimes people can be intimidated by contemporary art and feel like they can't understand it. But Open Studios are a perfect way to get past that. People can talk directly with the artists and learn all about the art-making process." Want to know what a gouache is? Just ask one of our painters. Curious about how sculptures are conceptualized? Then quiz a sculptor. Confused about the technical aspects involved in creating photography? Professional photographers can address that very issue. And what's the deal with the ping pong table? This is your chance to be inquisitive. Ask away: the artists-in-residence will be happy to answer all your questions about their art, techniques and approaches.
For Open Studios, Studio Tours take place at 12:00 noon & 1:00 p.m., and visitors can meet in the Bemis Center's lobby for a tour guide. An Open Studios Reception in honor of the artists-in-residence and the studio visitors will take place at 2:00 p.m. Mark your calendars and don't miss this rare glimpse at what goes on behind closed studio doors. This event is free and open to the public, so come to the Bemis Center on Saturday, July 23, and enjoy a close brush with an artist.