MAY ART TALK: Mapping the Invisible/Recharting the Known, May 5, 7:00 p.m.
Posted on 04/05/2005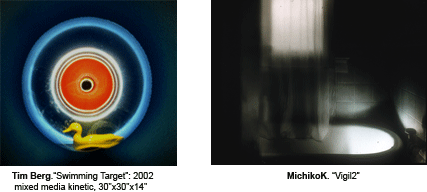 Forget spring training for baseball. The Bemis Center for Contemporary Arts offers a true Triple Header with artists Michiko K., Timothy Berg and Rick Dula, who all speak during our May ArtTalk. All three grapple with issues of self-exploration, and they embark on their respective uncharted territories with critical self-awareness. These artists share their unique approaches and creative reflections during the Bemis Center's first monthly ArtTalk: Resident Artist Lecture Series of 2005 on Thursday, May 5, at 7:00 p.m. As always, this event is free and open to the public.
Timothy Berg's recent body of work has focused on the motivations and consequences of recreational sport hunting. "By creating humorous and visually stimulating situations," reflects the Colorado-based ceramist, "I subvert, expand and manipulate the network of interrelated elements surrounding this activity in order to allow the viewer to analyze the significance and complexity of this contentious issue." He is also interested in developing a parallel body of work that examines genetic modification and its social, political, economic and environmental ramifications. The artist received his BFA from the University of Colorado, Boulder, and an MFA from the New York State College of Ceramics at Alfred University. Berg's work has appeared in numerous group and solo exhibitions, and he has received several grants and fellowships, including a Colorado Council on the Arts Scholarship.
In contrast to the forests and fields of Berg's work, Rick Dula is intrigued by urban landscapes, particularly the arrows painted on city streets. "I've always been fascinated by the cave painting similarities of arrows painted on weather-beaten aggregate," reflects the artist. "They appear to swim or move like visual onomatopoeia; they appear to do that which they describe." Dula also explores the signage subject further by capturing peeling city billboards. Such artistic endeavors, Dula notes, enable him to collect "beautiful images from my everyday surroundings." The artist earned his BA from California State University, Hayward and worked as a Master Printer for Magnolia Editions for close to two decades. He has exhibited widely, including the show Rick Dula, 16-Year Retrospective in Oakland, CA in 2002. Dula has received numerous awards, and his work appears in collections across the country, including in the US State Department in Washington DC and the Achenbach Foundation for Graphic Arts in San Francisco.
Photographer Michiko K. investigates the concept of ambiguous boundaries and the process of their crossing. Reflecting on her work, K. comments: "My photographs attempt to capture this moment of metamorphosis as a fleeting point of crystallization or melting of appearance into essence, a shady chimera joining categories of being, a twilight separating emotions. These ambiguous boundaries are magnified through repeated interpretations of each negative, where the energy of the transformation, or crossing, suffuses the image in a halo of light...I question my perception and the concept of the original image and its reinterpretations. Different ways of seeing reality and images intrigue me deeply." A veteran of numerous solo and group exhibitions, K. earned her BFA from New Jersey City University and a Masters degree and a Masters in Fine Arts and Art Education from Columbia University Teachers College. She has also studied photography at the International Center of Photography and Columbia University School of Fine Arts. K. has received numerous commissions, including one in New York City's Grand Central Station and an on-going project in Paris. Her work is also featured in public collections such as UNESCO and Right Management Inc., and she has taught at the Harlem School of the Arts, the Silvermine School of Arts and the University of New Rochelle. Generous support of K.'s work in Omaha is provided by Terry Koopman at Photo-Graphics (4001 Farnam Street, Tel: 344.8758).
All three artists offer thought-provoking insights for exploring our personal terrains and charting our evolving selves. Join us at the Bemis Center for Contemporary Arts on the first Thursday in May for a stimulating discussion on self-exploration, self-interpretation and self-reflection.