MECA Board Approves The Bemis Center for Contemporary Arts' Art 4 Omaha Project 1 & 2 for Qwest Center Omaha
Posted on 04/01/2005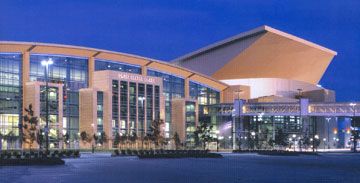 MECA Board Approves
The Bemis Center for Contemporary Arts'
Art 4 Omaha Project 1 & 2 for Qwest Center Omaha
OMAHA, NE–
The Bemis Center for Contemporary Arts is pleased to announce that the Metropolitan Entertainment & Convention Authority (MECA) Board has approved its Master Plans to place public art around the exterior of Qwest Center Omaha. During the MECA meeting held Thursday, March 31, the board members voted to accept the winning designs submitted through the Bemis Center's Art 4 Omaha Project 1 sculpture competition as well as the images created for its Art 4 Omaha Project 2 Cultural Quilt Banner.
The Bemis Center proposed the two Art 4 Omaha projects last fall as a way to include public art at Omaha's premier public gathering place. The Bemis Center's Art 4 Omaha Project 1 includes an Artist-in-Industry collaboration with Valmont Industries, Inc., one of the world's leading providers of manufactured steel products. Valmont Industries sells steel structures to businesses, governments and for civic projects worldwide, and the company is the lead sponsor for this project, providing materials, workspace, technical assistance, access to machinery and fabrication assistance to the selected artists. Omaha Steaks along with the Hilton Omaha have also pledged their support as part of their commitment to developing public art in Omaha. Forty artists submitted proposals, and a panel of art experts viewed small-scale versions in a blind jury process. After careful deliberations, the jurors selected the following six sculptors: Catherine Ferguson (NE), David Helm (NE), Matt Lowe (NE), Jackie Sterba (NE), R. Justin Stewart (MO) and Michael Todd (CA). The jury also chose Kevin Kowskie (NE) and Lawrence Sosso (NE) as alternate selections. In addition to the prestige of receiving the commission and the opportunity to create their works at Valmont Industries, each of the six sculptors will receive a $5,000 honorarium. The artists are slated to begin working on their sculptures at Valmont Industries in Valley, NE in May, and an unveiling ceremony, which will celebrate the installation of the new works, is slated for this fall at Qwest Center Omaha.
The Bemis Center's Art 4 Omaha Project 2 is a special community project that will install a giant 30-foot-wide by 60-foot-tall fabric banner to the convention center and concert arena. This banner will face the important traffic corridor of 10th Street, which signifies an important entrance into downtown Omaha. The banner will additionally act as Omaha's "Cultural Quilt," by celebrating our city's rich diversity and cultural heritage and holding them up for all to see. Diverse community groups, such as Girls Inc. and Central High School students, have gathered together to create the iconic images that will comprise this united, visual symbol. The grand unveiling ceremony is scheduled for July, and special events are being planned to accompany the Cultural Quilt's debut.
Mark Masuoka, the Executive Director for the Bemis Center for Contemporary Arts, comments: "We are very pleased with the MECA Board's decision. The Bemis Center's Art 4 Omaha Projects 1 and 2 present us with exciting opportunities for artists, business leaders and community members to come together and make a visible and lasting contribution to the city. We can't wait to share the new public art with everyone in Omaha."