Announcing a Billboard Presentation by Mathieu Borysevicz with the Bemis Center for Contemporary Arts
Posted on 03/22/2005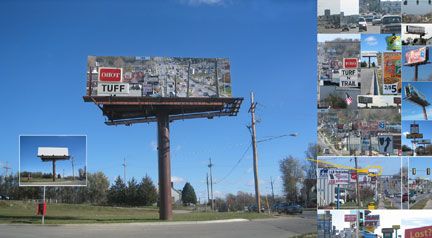 According to statistics from the City of Omaha, over 67,000 cars pass through the intersection of Maple and 83rd Streets every day. If you happen to be one of the motorists who travels this route, be certain to pay special attention to the billboard overlooking this junction. Beginning this spring, New York-based artist Mathieu Borysevicz will use the billboard positioned at this crossroads to explore how large-scale advertising images affect our personal space and visual perceptions. His project Untitled (Omaha, Nebraska) is in collaboration with the Bemis Center for Contemporary Arts and is made possible by funding from the Nebraska Arts Council and LAMAR Advertising and a generous grant from the Nimoy Foundation. Borysevicz will unveil his project in late April, and it will run for four weeks through the end of May.
The artist creates a photographic installation in the form of a site-specific billboard, which provides a view from the sign itself as it looks down over Maple Street. This vantage point cuts across four traffic lanes clustered with chain stores, strip malls and advertising. The billboard accordingly works as both critique and testimony to the marriage of two formative icons of American culture: the automobile and consumer freedom. The artist has been developing a series of such billboards over the past six years, and he creates them in response to the proliferation of large-scale advertising upon the urban environment. By providing a direct, uncensored image of a well-trafficked road, Borysevicz provides viewers with a starting point for inquiring into how such structures and images affect the perceptions of our everyday worlds. Although highways and byways are public spaces, we view these places from the privacy of our cars. For this reason, the roadside encroaches onto our common consciousness, neon lights and franchise signs permanently etching their messages onto our collective identity. In this regard, Borysevicz uses bland, mass architecture and urban sprawl to inspire deeper contemplation and introspection about the deliberate construction of our public places. In reflecting on the project, the artist adds: "It is also an attempt to address a larger, fresher audience and therefore to stimulate contemplation in a different context, or better yet, to stimulate collective déjà-vu."
Mathieu Borysevicz received his BFA from the School of Visual Arts in New York in 1993. He also studied at the Rietveld Academie in Amsterdam and the Capital Normal University in Beijing. He has received numerous awards, including an Asian Cultural Fellowship in 2002, and reviews of his work have appeared in such prestigious publications as Art in America and The New York Times. People/places/things, a current exhibition of Borysevicz's work, is on view at the Bemis Center through May 28, 2005. Untitled (Omaha Nebraska) is made possible by the Nimoy Foundation, established during the past year by Susan Bay Nimoy and actor/director/photographer Leonard Nimoy to recognize, encourage and support the work of artists. In announcing this year's grants, Leonard Nimoy stated: "We are thrilled with the success of our program in its first year. To continue supporting the work of such fine artists and institutions is both gratifying and humbling."
Whether by foot or car, bus or bike, Mathieu Borysevicz offers a literal and figurative crossroads for commuters. Make Untitled (Omaha, Nebraska) at Maple and 83rd Streets your next destination and consider how ordinary intersections intersect with our everyday lives.