Restless: Large-Format Digital Stills by Christine LaFaso and People/Places/Things: Works In and Around the Bemis Center Residency by Mathieu Borysevicz, Opening Reception: February 25, from 7:00 – 10:00 p.m
Posted on 02/01/2005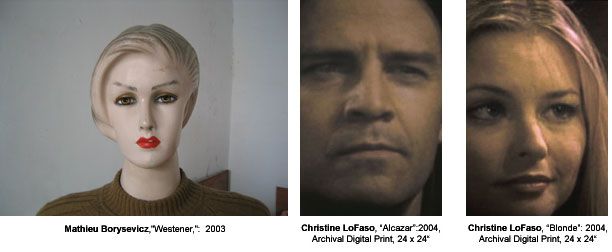 Restless: Large-Format Digital Stills
Christine LoFaso at the Bemis Center for Contemporary Arts
Omaha, NE–
Arnold Schwarzenegger stares down an unseen foe with a menacing glare. A soap opera vixen cries softly, her salty tears gently smearing her mascara. A participant in a reality television show gazes unblinkingly into a camera lens and reflects upon his brief encounter with fame. In the exhibition Restless: Large-Format Digital Stills artist Christine LoFaso captures these people in the midst of their respective actions through large-scale digital photography. And her portraits emerge as unflinching glimpses into emotions – whether acted, imagined or very genuine. Restless: Large-Format Digital Stills is on view at the Bemis Center for Contemporary Arts February 25 – May 28, 2005, and an opening reception will be held Friday, February 25, from 7:00 – 10:00 p.m. The artist will also give a Gallery Talk on Saturday, February 26, 2005, at 12:00 noon. Both events are free and open to the public
For the most part, the works featured in this exhibition are large-format digital prints produced from imagery derived from television or film, and the portraits are unedited stills extracted from short video clips. The faces, with fleeting expressions such as angst, joy and sorrow, were never intended to be held up for examination through stop-action photos. Yet because they are momentary and fragmentary, they expose the tell-all nature of contemporary popular culture in a wholly intriguing way. In this regard, LoFaso is taking something that is restless – in this case a person in motion – and making it still in both a photographic and metaphorical sense. Indeed, LoFaso based the exhibition title on the soap opera The Young and the Restless, and Restless also describes the nature of her stop-motion images.
But LoFaso isn't interested in simply stopping images. Rather, the artist states: "I am interested in what the emotive face reveals in these everyday situations or known historic events, when examined at close-range." For example, LoFaso captures Arnold Schwarzenegger (Arnold #1) from Collateral Damage, a film released shortly after September 11th. Here, she freezes the actor as he stares down his terrorist nemesis, and in so doing, she also encapsulates the mood of the country during this time period. Twenty-five years earlier, young Martin Sheen (Martin #1) conveys an equally emblematic expression in the movie Apocalypse Now as he accepts an almost doomed assignment to locate the lunatic Colonel Kurtz, played by Marlon Brando. In this frozen moment, Sheen, who is also beginning to lose a grasp of reality in the maddening environment of the Vietnam War, embraces his assignment with full self-knowledge. In George #1, President Bush passionately defends his decision to go to war after disclosing that he misinformed the American public about intelligence information concerning the sale of uranium to Iraq.
Regardless of the still, LoFaso's iconic images leave viewers wondering how the action continues. As she observes, "The word [Restless] suggests a stop-action in a continuing narrative." In Restless: Large-Format Digital Stills, Christine LoFaso's captured moments illustrate the range of narratives occurring not just on television or in films, but rather throughout contemporary popular culture as a whole.
People/Places/Things: Works In and Around the Bemis Center Residency by Mathieu Borysevicz
Mannequins displayed in a department store in China; pick-up trucks photographed in Omaha; National Geographics discovered in thrift shops – such is the wide range of disparate objects and far-flung places that artist Mathieu Borysevicz draws upon for his most recent photographic series. In the exhibition "people/places/things," on view at the Bemis Center for Contemporary Arts from February 25 through May 28, the artist brings together the different ideas and bodies of work created during his Bemis Center residency in November 2003. An opening reception will be held Friday, February 25, from 7:00 – 10:00 p.m. The artist will hold a Gallery Talk/Video Screening on Thursday, April 21, at 7:00 p.m. Both events are free, and the public is warmly invited to attend.
At the heart of Borysevicz's projects is his attempt to extract meaning from the inundation of imagery in contemporary society. With the advent of digital technology, image production and reproduction has accelerated beyond the human capability to decipher, ingest or internalize information. In these works, the digital photographer uses methods of recycling, de-contextualizing and categorization as means of inquiry into image signification. "Captain and Sea" are recycled news images from the Internet. Enlarged to near life-size at their original resolution, these works attempt to illustrate the ideological gap between producer and recipient of social/political imagery and their ability to affect change. The "Birthday" series is derived from magazines found in downtown Omaha thrift shops. Images from the original Newsweek, National Geographic, and Playboy issues of the artist's birthday, September 1971, are indiscriminately reproduced. The artist observes: "The pieces act as a punctuation of my own life as well as an exploration in found narratives. Viewing a magazine vertically and instantly, unimpaired by text or sequence, creates all sorts of unintended juxtapositions and divulgences." In this regard, the artist likes to quote recently-deceased intellectual Susan Sontag: "Memory, the staging of the past, turns the flow of events into tableaux."
The "Omaha Project" is the second in a series of urban image-archiving projects that Borysevicz has undertaken. These projects emerge as a kind of visual anthropology in that evidence of ways of life in different urban settings are photographed categorically. While by no means thorough or even particular to this city, the project aims to map Omaha through visual re-occurrence. Available parking, name signs, continuous views of the Woodmen building, pick-up trucks, domestic wood frame architecture, etc. all work as examples of psychical repetition that index a moment in a city's evolution. The "Westerners" series is also the result of a similar project the artist completed in Hangzhou, China a few months prior to his Bemis Center residency. While Westerners themselves are scarce in China, these mannequins are ubiquitous and often outnumber customers and staff in stores. Constituting a population in and of themselves, these subject/objects offer intriguing and provocative glimpses into cultural transference and desire.
From China to Nebraska, the digital images captured by Mathieu Borysevicz work as a kind of artistic archaeology, borrowing images and turning them into iconic representations of our cultures, our communities and our lives. Come to the Bemis Center for Contemporary Arts and experience the very extraordinary nature of "people/places/things."