"Shaping Spaces through Sculptural Journeys" February ArtTalk: Artists Michele Kong and David Seiler both find unique ways to transform everyday, ordinary spaces into extraordinary, meaningful places. Thursday, February 3, at 7:00 p.m. Free to the public
Posted on 01/02/2005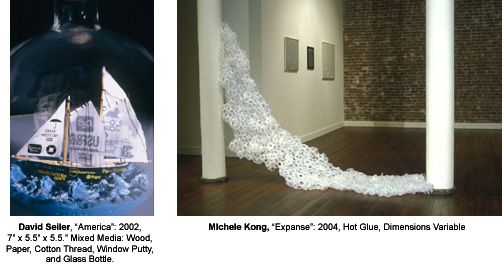 Shaping Spaces: Sculptural Journeys at
The Bemis Center for Contemporary Arts
First Thursday ArtTalk
Contact: Cary Tobin, Residency Coordinator, 402.341.7130 x12
Artists Michele Kong and David Seiler both find unique ways to transform everyday, ordinary spaces into extraordinary, meaningful places. They sharetheir insights into their intriguing creative processes during the Bemis Center's first monthly ArtTalk: Resident Artist Lecture Series of 2005 on Thursday, February 3, at 7:00 p.m. As always, this event is free and open to the public.
Michele Kong uses her work as a means to share her unique visual sense of the world. She imparts a light touch to her work, which falls somewhere between sculpture and installation art. Kong uses industrial materials to suggest natural phenomenon such as snowflakes or water droplets. Notes Kong, who lives and works in Washington, DC: "The materials selected hold light and reflect it back out – in a musical and almost magical simplicity. Translucency, light, pattern and repetition suspend an ephemeral moment, captivating the viewer in the act of seeing and perceiving."
David Seiler transforms found objects and constructs sculptures that invite his viewers to interact and contemplate society's many ironies. He models some of his work after motoscopes, turn-of-the-century penny arcade "peep show" machines. When the handle is cranked, photos flip past a viewer to create the illusion of a moving picture. Additionally, this Colorado-based artist is interested in creating large ceramic vessels with slip drawings that depict modern American societal issues, such as rioting, homelessness and long work days for little money. These are the issues, he notes, "that gives the US domestic headaches."
Michele Kong and David Seiler employ markedly different methods, but they both infuse a unique sculptural energy into their work. Escape the cold chill of winter by joining us at the Bemis Center for Contemporary Arts for the first Thursday in February and learn about how these artists explore places and shape spaces.