BC PODCASTS BRING YOU INTO THE ARTIST'S STUDIO
Galleries and museums are great ways to experience contemporary art. But viewers don't always get to experience the artist's take on what happens in their studios. For over twenty-five years, more than 600 artists have participated in the Bemis Center's international residency program. That's why we've added BC Podcasts. Beginning in 2007, BC Podcasts take you behind the scenes for interviews with our Artists-in-Residence and Visiting Artists. Each interview captures the creative process and brings it directly to you, no matter where you are.
Right click on the Listen button to download the podcast. If you have difficulty downloading the file, you can click the iTunes button to go to iTunes and subscribe to BC Podcasts for free.

Tune in next time for an interview with current artist-in-residence.
---
ELISABETH HIGGINS-O'CONNOR FORMER FELLOW FEBRUARY - APRIL 2012
---
In an effort to comprehend the contemporary movements in which we witness and participate as well as the history that has propelled these changes, Lisa Iglesias explores cultural and nationalistic representations. Her projects take the form of graphite drawings, stop-motion animations and paper sculptures. Communicating a disconnection from setting and themselves, her renderings and objects hint at our estrangement from the world we're in and construct constellations of association and meaning...
---
ERIN RILEY FORMER FELLOW JANUARY - MARCH 2012
---
Anne Lindberg Time Lapse Video of Drawn Pink Installation
---
Michael Beitz Former Fellow August - October 2010
---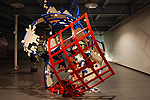 Mia Feuer makes massive sculptures that create the illusion of architectural elements in states of potential or collapse. They are inspired by North American bridges, cranes, and ports, as well as checkpoints in Israel and Palestine, where the artist has traveled and taught. Her materials include cast and painted foam, aircraft cable, and other commercial products...
---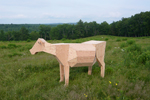 John Peña is a multidisciplinary artist and educator who grew up in Washington State. John's projects have explored racing with clouds, sending a letter to the Pacific Ocean every day for the last seven years and creating a pirated radio station that played extinct birds sounds. He received his B.F.A. in Painting. He completed his M.F.A. at Carnegie Mellon University and then traveled to Cali, Colombia on a Fulbright Fellowship. John has attended the Skowhegan School of Painting and Sculpture...
---