The Bemis Center for Contemporary Arts is excited to announce that 14 talented artists have been named Bemis Center artists-in-residence for the second half of 2012. The artists, in alphabetical order, are:
Steve Bishop | London, UK | installation + sculpture
Andrew Brehm | Richmond, VA | installation, sculpture + new media
Angela Fraleigh | Allentown, PA | installation, sculpture + painting
Chinatsu Ikeda | Chicago, IL | painting
Karen Irmer | Augsburg, Bavaria | new media + photography
Meredith James | New York, NY | sculpture + animation
Kyoung run Kang | Brooklyn, NY | mixed media, performance + video
Ashley Lyon | Akron, OH | sculpture & photography
Jason Mones | Brooklyn, NY | printmaking + painting
Maria Pithara | Richmond, VA | sculpture
Julie Schenkelberg | New York, NY | sculpture
Carly Silverman | Chicago, IL | painting
Jennifer Sullivan | Ridgewood, NY | installation, performance + video
Stephanie Syjuco | San Francisco, CA | installation, sculpture + new media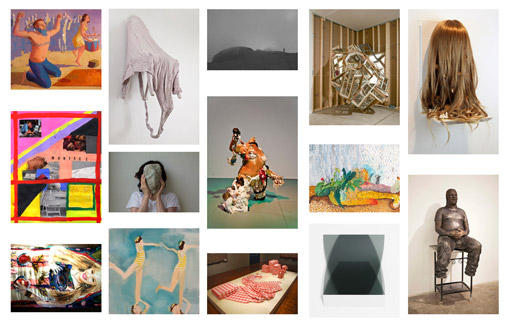 Artists-in-Residence are granted a generously sized live/work studio, twenty four hour access to the Center's facilities and a $750 monthly stipend for three month residencies.
Three independent jurors are brought in from outside the Bemis Center to make the selections. The panel this year consisted of Michael Jones McKean, a 2004 Artist-in-Residence and Associate Professor of Sculpture and Extended Media at Virginia Commonwealth University, Ed Dadey, Director of Art Farm and Francisco Souto, Associate Professor of Printmaking at the University of Nebraska.
The three-month residency program is extremely competitive. The jury examined nearly 600 applicants before arriving at the final list.
For over 30 years, the Bemis Center has been fostering exceptional talent by providing artists with time, space and financial support. Recent expansions – including five new live/work studios and the complete renovation of the 10,000 sq. ft. Okada Sculpture Facility – have allowed the Bemis Center to expand the program to accomodate 36 residencies per year and cement its reputation as a leader in the field of artist communities.
Artists who were not selected during this round of applications are always welcome to reapply. The Bemis Center is currently accepting residency applications for the first half of 2013. Visit www.bemiscenter.org/residency by February 28, 2012 to apply.
ABOUT THE BEMIS CENTER
The Bemis Center for Contemporary Arts was founded in 1981 by artists, for artists. As an artist-centered organization, the Bemis Center's sole mission has been to support contemporary artists of exceptional talent. In this spirit, the Bemis Center provides artists with the gift of time, space and support. In addition to our international artist-in-residence program, the Bemis Center curates exhibitions and develops community arts projects. These programs directly fund and support the artistic process, catalyzing artists' work to engage and challenge the public.