Calling in Sick, a bodily communication workshop
Thursday, April 26, 2018 6:00 pm - 8:30 pm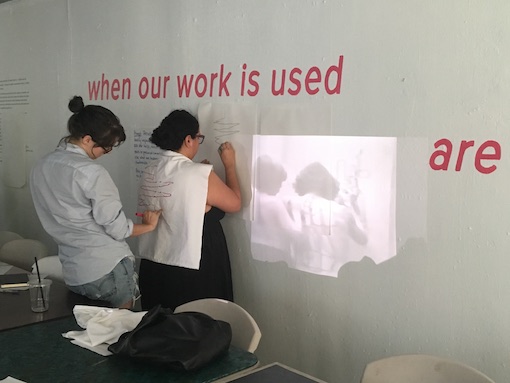 Description:
Calling in Sick, a bodily communication workshop
with Taraneh Fazeli

This program is free to attend but space is limited and registration is required by April 23.

REGISTER

Calling in Sick is a bodily communication workshop based in storytelling about illness lead by Taraneh Fazeli, 2018 Bemis Curator-in-Residence and curator of Sick Time, Sleepy Time, Crip Time: Against Capitalism's Temporal Bullying. Considering how the language we tend to use around illness in various contexts (medical, professional, etc.) shapes our experience of it, Calling in Sick participants will recollect feeling unwell or calling in sick to work within a set of linguistic, gestural, and haptic exercises. By experimenting with how to structure intimate and caring communication that recognizes rather than erases difference, new language can emerge that makes illness a collective matter rather than a private experience. Drawing from dialogic exercises structured to explore social group identity, as well as artworks and excerpts from illness memoirs, Calling in Sick will address what has become chronic through haptic encounters that invite intimacy.

This workshop is part of The Warp and Weft of Care, a program series associated with Sick Time.... Fazeli has also facilitated versions of this workshop at Angela's House (Houston, TX), Blue Mountain Arts Center (Blue Mountain Lake, NY), The Cooper Union (New York, NY), Project Row Houses (Houston, TX), Recess (New York, NY), and tranzitdisplay (Prague, Czech Republic).

REGISTRATION
This workshop is free to attend. Due to the intimate nature of this workshop, space is limited and registration is required by April 23. In order to facilitate the exercises within, we ask participants to be present for the first two hours of the workshop.

Please include a few sentences (150 words) detailing your interest in this subject so that we may shape this workshop around your needs. Also, include any access needs not addressed in the Access Details below. We will do our best to support you.

REGISTER

ACCESS DETAILS
Bemis Center for Contemporary Arts has three galleries on the main floor that can be accessed via an ADA approved ramp on 12th Street or seven steps. Calling in Sick will be held on the 3rd floor which is accessible by an ADA approved elevator. There is free street parking in front of the building on 12th Street and a paid lot on the North side of the building. 12th Street is cobblestone-lined. Admission is free and no ID is required to enter the building. There are multi-stall ADA approved single-sex bathrooms on the 1st floor with two grab bars, as well as on the 3rd floor where the workshop will be held.

Children and service animals are welcome. Concealed carry is prohibited. Texts and programs are in English. Large format texts are available upon request. The space is not scent-free, but we request that you come low-scent. Many ill (and non-ill) people have chemical sensitivities, which mean they do not tolerate scents (i.e. please do not wear perfumes or use scented deodorants and toiletries that day). More info on how and why to do this here and here.

Seating options will include folding chairs and cushions on the floor, but we are happy to provide other seating if requested in advance. If you need to move around, twitch, pace, or not make eye contact, you are welcome here.

If you have questions or would like support with specific access needs please let us know in your registration and we will do our best to help you attend comfortably.

Image: Calling in Sick workshop at Project Row Houses (Houston, TX) on Sunday, May 22, 2016.