Garry Noland + Matt Jacobs Exhibition Opening
Friday, February 22 | 6 - 9 p.m.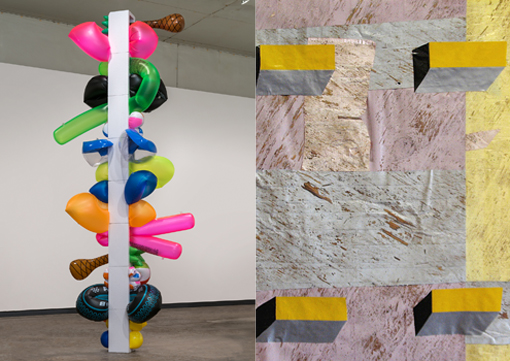 Description:
The Bemis Center is proud to present an exhibition of recent works by Kansas City-based artist Garry Noland. Noland received one of three juror's awards at last year's Regional Juried Exhibition. For this major solo show, Noland is showing large-scale works produced solely of duct tape — tapestry-like forms that combine the desaturated hues of the colored tape with adhered detritus from his studio floor.

Matt Jacobs, a participant in the 2012 Bemis Center Regional Juried Exhibition, is presenting a solo exhibition of new sculptures, installations and paintings. Jacobs brings together commonplace materials — inflatable toys, cinder blocks, Tic Tacs — to create unexpected works that bridge intuitive play with found materials with formal concerns of painting and sculpture.