FEA$T (Funding Emerging Artists with Sustainable Tactics)
Saturday, November 17 | 6:30 p.m.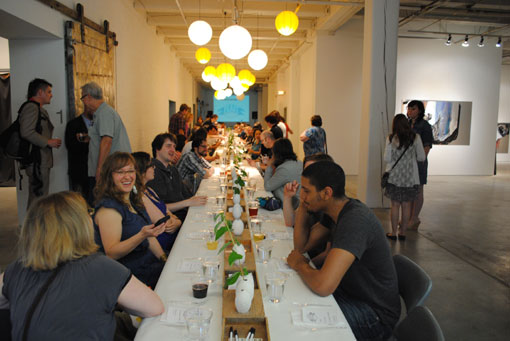 Description:
FEA$T (Funding Emerging Artists with Sustainable Tactics) is a new event designed to generate support for ambitious concepts initiated by area artists. It's a community-driven dinner with all the proceeds funding a single project that might not happen otherwise -- crowdfunding the arts right here in Omaha. Artist applications are due on November 10 and the FEA$T will take place on November 17 at 6:30 pm.

FEA$T is based on multiple successful micro-granting models around the country. The event FEA$T consists of a dinner prepared by chef Paul Kulik of the Boiler Room restaurant, during which 5-7 pre-selected artists give brief presentations about a future project that requires funding. After the presentations, the diners will vote and the project that receives the most support will receive all ticket proceeds from the event. The winning artist will present the results of their project at a future FEA$T event.

FEA$T PRESENTER AND PROJECT DESCRIPTION:
Andrew Conzett | Omaha, NE
Rehabilitation, redesign and reprogramming of an outdoor space at 1801 Vinton Street.

Caleb Coppock | Omaha, NE
Purchase of necessary materials to create a new series of multi-media compositions.

Michael Giron | Omaha NE
Funding assistance to create two new murals along Leavenworth Street.
     
Rich Mansfield | Omaha, NE
Purchase of tools for a woodworking program directed towards children.

Ben Peterson | Omaha, NE
Continued funding and expansion of Bench, a public collaborative wood and metal-working shop. 

Sweatshop Gallery | Omaha
Continued renovation at Sweatshop, a gallery and event space in Benson, NE.

The Bemis Center would like to thank Abigail Satinsky, InCUBATE and Sunday Soup, FEAST Brooklyn and all other participants in the Soup Network for their hard work and support.