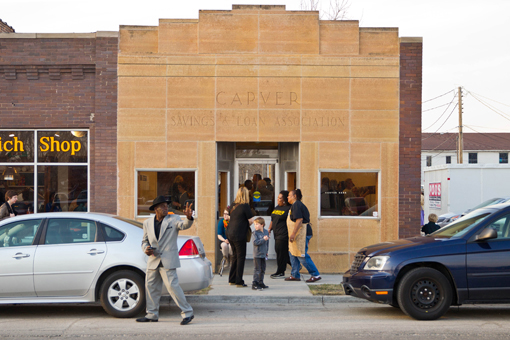 CARVER BANK
2416 Lake Street
Omaha, NE 68111
Admission and Parking FREE
Phone: 402.933.6624
carverbank@bemiscenter.org
Facebook
Hours of Operation at Carver Bank: by appointment only
Big Mama's Sandwich Shop
402.933.6622
Menu
Hours: Monday - Friday: 10:30 am - 2:30 pm
PROJECT STATEMENT
Theaster Gates is a Chicago-based artist, cultural planner and performer known for work that directly engages issues of race, class and place with an uncommon generosity and sense of inclusion. With projects spanning performance, urban interventions, micro-development, social experiments and installation, Gates is adept at "driving the wedge" into potentially divisive subjects with a welcoming throw of grace. Gates has said that his work begins with his "right to reenvision place ... not just as an art project, but as a way of living." To develop this renewed sense of place he initiates myriad "conversations with institutions about race" and seeks out spaces of "urban ecstasy."
Omaha is a segregated city that houses extreme disparities between class and opportunity. Omaha recently claimed the greatest number of millionaires per capita, yet is also home to the highest percentage of black children living in poverty of any city in the country. These demographic conditions are starkly present in North Omaha, the poorest and most concentrated African-American community in the city.
Despite these conditions, North Omaha is also in the middle of an extraordinary resurgence of cultural and economic activity led by local organizations including Love's Jazz and Arts Center, Omaha Economic Development Corporation, the Union for Contemporary Arts, Malcolm X Foundation, Seventy Five North Revitalization Corp., Great Plains Black History Museum and others. The Bemis Center and Gates are excited for Carver Bank to join and support this cultural activity in North Omaha.
ABOUT THE ARTIST
Theaster Gates is an artist and catalyst among artists, activists and audiences. His work engages issues of race, class and place with uncommon generosity and sense of inclusion, through performance, site interventions, micro-development and sculpture.
Gates earned a BS in Urban Planning and Sculpture from Iowa State University, a MA in Fine Arts and Religious Studies from the University of Cape Town, and a MS in Urban Planning, Public Sculpture and Religious Studies from Iowa State. He is the inaugural Director of Arts and Public Life at the University of Chicago. He is a recent Loeb Fellow in the Graduate School of Design at Harvard University.
In 2009, Gates initiated the Dorchester Projects, which encompasses a cluster of formerly abandoned buildings on Chicago's South Side. Gates renovated sites of neglect into a vibrant cultural locus that include a Listening House, Library House, Soul Food Pavilion and Black Cinema House.
Gates' current and recent solo exhibitions include 13th Ballad at Museum of Contemporary Art Chicago; My Labor is My Protest at White Cube in London; Listening Room at the Seattle Art Museum; An Epitaph for Civil Rights at The Geffen Contemporary at the Museum of Contemporary Art, Los Angeles; and To Speculate Darkly at the Milwaukee Art Museum. Current and recent group exhibitions include 12 Ballads for Huguenot House in dOCUMENTA (13) in Kassel, Germany; FEAST: Radical Hospitality and Contemporary Art at the Smart Museum of Art, Chicago; Cosmology of Yard at the 2010 Whitney Biennial. Gates participated in Hopey Changey Things at the Bemis Center in 2010. Gates is represented by Kavi Gupta Gallery in Chicago and White Cube in London.
SPONSORS
This project is supported by ArtPlace America, a collaboration of leading national and regional foundations, banks and federal agencies accelerating creative placemaking across the U.S. Major support is provided by Annette and Paul Smith, The Sherwood Foundation, the Robert Rauschenberg Foundation's Artistic Innovation and Collaboration Program, which supports fearless and innovative collaborations in the spirit of Robert Rauschenberg, the City of Omaha, a National Endowment for the Arts Our Town grant, the Joyce Foundation and the Harpo Foundation.
Watch this video to learn more about the the beginning stages of Carver Bank.