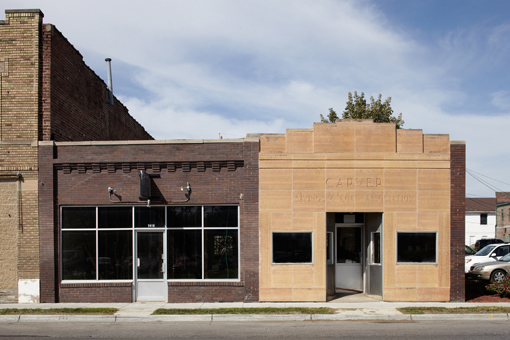 CARVER BANK
Theaster Gates +
Rebuild Foundation +
Bemis Center for Contemporary Arts +
Big Mama's Sandwich Shop
2416 Lake Street / Omaha, NE 68111
Gallery / 402.933.6624 / Facebook / carverbank(at)bemiscenter.org
Big Mama's Sandwich Shop / 402.933.6622 / menu /
Mon - Fri | 10:30 am - 4:00 pm
Sat | 11:00 am - 4:00 pm
Current Exhibition
Mitchel Squire: We're gonna have to do more than talk
January 11 - March 15, 2014
Carver Bank Spring Workshops
Youth and their caregivers are invited to join the Bemis Center and its partners for weekly spring workshops at Carver Bank. Workshops are free and all materials will be provided.
For a full listing of our workshops and to register, click here.
Theaster Gates | Carver Bank, 2013. Video: SurrealMediaLab.com .
PROJECT STATEMENT
Theaster Gates is a Chicago-based artist, cultural planner and performer known for work that directly engages issues of race, class and place with an uncommon generosity and sense of inclusion. With projects spanning performance, urban interventions, micro-development, social experiments and installation, Gates is adept at "driving the wedge" into potentially divisive subjects with a welcoming throw of grace. Gates has said that his work begins with his "right to reenvision place ... not just as an art project, but as a way of living." To develop this renewed sense of place he initiates myriad "conversations with institutions about race" and seeks out spaces of "urban ecstasy."
Omaha is a segregated city that houses extreme disparities between class and opportunity. Omaha recently claimed the greatest number of millionaires per capita, yet is also home to the highest percentage of black children living in poverty of any city in the country. These demographic conditions are starkly present in North Omaha, the poorest and most concentrated African-American community in the city.
Despite these conditions, North Omaha is also in the middle of an extraordinary resurgence of cultural and economic activity led by local organizations including Love's Jazz and Arts Center, Omaha Economic Development Corporation, the Union for Contemporary Arts, Malcolm X Foundation, Seventy Five North Revitalization Corp., Great Plains Black History Museum and others. The Bemis Center and Gates are excited for Carver Bank to join and support this cultural activity in North Omaha.
Theaster Gates' Town Hall project is an effort to develop a new cultural space and aspires to form unforeseen models and possibilities for our city. The Town Hall project includes multiple parts. Town Hall began in late 2010 with a series of dialogues and dinners with artists, stakeholders and potential partners, and this listening process continued throughout 2011. Gates and the Bemis Center hosted a series of free public events in North Omaha, ranging from informal dinners to public forums that asked the questions:
• What are the needs of the black creative community in Omaha?
• How can new public spaces in North Omaha be creatively cultivated?
• Can Gates and the Bemis Center help?
Launched in the summer 2012, the renovation of the Carver Bank building marked the second phase of Town Hall. Carver Bank, at 2416 Lake St., is the site of the first African American-owned bank in Omaha. The project's goal is for the site to become a space of public participation and cultural adventure, and serve as a hub for the creative and public life of its neighborhood and community. Opened in late March 2013, Carver Bank joins other place-based initiatives launched by Gates and Rebuild Foundation in Chicago and St. Louis. The 2,600-square-foot Carver Bank facility was fully renovated and now offers exhibition and performance space, artist studios, Big Mama's Sandwich Shop, as well as 3,000-square-feet of transformed exterior landscape. Managed and programmed by the Bemis Center, Carver Bank now hosts regular exhibitions, events and workshops driven by artists and community partners.
Carver Bank held an open call for North Omaha-based artists to participate in year-long residencies, that include monthly stipends, studio space and mentorship by Gates, Rebuild Foundation and Bemis Center staff. The 2013-14 Carver Bank Artists-in-Residences are Dereck Higgins, Portia Vivienne Love, Shannon Marie and Bart Vargas.
Gates approaches the Town Hall process with the hybrid perspective of an urban planner, artist, developer and community organizer. Gates is interested in the sculpture that continues to produce: in this case, the building or neighborhood is the sculpture, which emerges from listening and imagining the needs of creative people in North Omaha. Gates said, "I want to create a place and find a group of people who can create solutions for North Omaha internally." By inviting diverse individuals to work together, Gates proposes to create an urban anomaly that highlights existing gems of knowledge within North Omaha.
Town Hall and Carver Bank was organized by the Bemis Center in partnership with Rebuild Foundation, and was curated by Hesse McGraw, Bemis Center Chief Curator.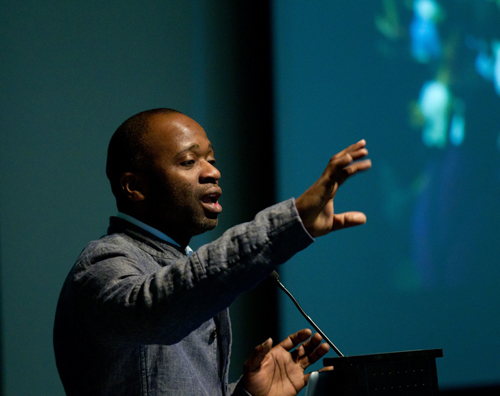 ABOUT THE ARTIST
Theaster Gates is an artist and catalyst among artists, activists and audiences. His work engages issues of race, class and place with uncommon generosity and sense of inclusion, through performance, site interventions, micro-development and sculpture.
Gates earned a BS in Urban Planning and Sculpture from Iowa State University, a MA in Fine Arts and Religious Studies from the University of Cape Town, and a MS in Urban Planning, Public Sculpture and Religious Studies from Iowa State. He is the inaugural Director of Arts and Public Life at the University of Chicago. He is a recent Loeb Fellow in the Graduate School of Design at Harvard University.
In 2009, Gates initiated the Dorchester Projects, which encompasses a cluster of formerly abandoned buildings on Chicago's South Side. Gates renovated sites of neglect into a vibrant cultural locus that include a Listening House, Library House, Soul Food Pavilion and Black Cinema House.
Gates' current and recent solo exhibitions include 13th Ballad at Museum of Contemporary Art Chicago; My Labor is My Protest at White Cube in London; Listening Room at the Seattle Art Museum; An Epitaph for Civil Rights at The Geffen Contemporary at the Museum of Contemporary Art, Los Angeles; and To Speculate Darkly at the Milwaukee Art Museum. Current and recent group exhibitions include 12 Ballads for Huguenot House in dOCUMENTA (13) in Kassel, Germany; FEAST: Radical Hospitality and Contemporary Art at the Smart Museum of Art, Chicago; Cosmology of Yard at the 2010 Whitney Biennial. Gates participated in Hopey Changey Things at the Bemis Center in 2010. Gates is represented by Kavi Gupta Gallery in Chicago and White Cube in London.
CARVER BANK 2013 – 2014 Artists-in-Residence
The Carver Bank Artists-in-Residence Program provides a dedicated artist work studio and a $500 monthly stipend ($6,000 throughout the year) to exceptional artists or collaboratives — with an emphasis on artists of color, North Omaha residents and those whose work critically engages issues of race and ethnicity. The year-long program provides the opportunity to draw on mentorships and resources from internationally recognized artist Theaster Gates and Bemis Center and Rebuild Foundation staff to: develop, advance and showcase their work; deepen their individual practices through critique, public engagement, skills and knowledge sharing; and create a space where personal artistic inquiry and collaborative relationships can flourish.
Dereck Higgins | Musician / Visual artist / Recording artist / Record producer / Poet
Dereck Higgins is a self-taught musician and multi-instrumentalist, recognized as a bassist in prominent Omaha-based bands. Higgins was born into a musical and artistic family. Since the 1970s, he has been involved in a variety of bands and musical styles, including rock, jazz, punk, electronic and funk. His current musical projects include InDreama — an experiment in psychedelic soundscapes, pop music and visual performance — and Rikk Agnew Fiasco, Paddy O'Furniture and Cleemann. His former bands include Norman & the Rockwells, Digital Sex, RAF, Disco Ranch and Son Ambulance. Higgins has performed throughout the USA, Europe and Japan, and appeared with artists such as REM, The Dead Kennedys, Weird Al Yankovic, Melt Banana and Laraaji. In 2004 Higgins launched his own record label, DVH Recordings, and has released four titles to a small, worldwide fan base. Artwork for the label features Higgins' collage art. He has also worked in wardrobe creation and supervision for films including "Lovely, Still," "April Showers," and "The Scientist." Higgins is from Omaha, Nebraska.
Portia Vivienne Love | Writer / Poet / Educator / Singer
Portia Vivienne Love is a writer, poet and singer. She has been teaching writing workshops to children, teens, adults and seniors for the Bemis Center for Contemporary Arts, WhyArts?, Girls Inc., Boys & Girls Clubs of the Midlands, Metropolitan Community College, University of Nebraska at Omaha and Joslyn Art Museum. She was awarded a grant by the Nebraska Arts Council to publish "Eclipses of the Sun," a poetry book. Love has also published numerous poems in The Omaha Star, Alzheimer's Association of the Midlands Caregiver newsletter and Creighton University's Shadows Magazine. Her short story, "Stories My Grandmother Told Me," won an award from Creighton University. She is the owner of Just Write 4 Me, which features poems made into works of visual art. Love sang with her father's band for over 10 years and continues to sing throughout the Omaha area. She was born in Omaha, Nebraska.
Shannon Marie | Rapper / Singer / Writer
Shannon Marie is a hip-hop and R&B artist who has gained thousands of fans from her live performances, music videos, features, mixtape and EP. She was a natural entertainer at a young age and has evolved into a versatile musician who excels at rapping, singing, performing and writing. The content of her lyrics often focuses on female independence, determination, relationships and braggadocio. Marie's work is recognized for its addictive hooks, crowd-moving performances, and rhythmic and creative punch lines. Her music has been played internationally with fan bases in Germany, China and Africa. Marie has opened for numerous artists such as Lil' Kim, Bow Wow, Wale and Kirko Bangz. A self-taught artist who is influenced by Missy Elliott and Ester Dean, she has been compared to Nicki Minaj and Rasheeda. Marie is from Omaha, Nebraska.
Bart Vargas | Painter / Sculptor / Educator
Bart Vargas is a "mixed-blood" artist who has often struggled with having a metaphorical foot in two worlds, never quite feeling a sense of belonging to either and often feeling like an immigrant to his own cultural heritage. For over a decade, Vargas has been exploring the artistic potential of trash and recyclable materials to build paintings, sculptures and installations that blur the identity of these everyday materials, transforming them into playful, thought-provoking objects. He has exhibited internationally and his work can be found in many collections throughout the United States, Europe and Asia. His works have been featured in national publications, and he received a 2010 Outstanding Student Achievement in Contemporary Sculpture Award from the International Sculpture Center. Vargas has also participated in the 2010 Beijing International Art Biennale (BIAB), as well as the 2012 Santorini Biennale of Arts in Santorini, Greece. He received a Bachelor of Fine Arts degree from the University of Nebraska at Omaha in 2007, and a Master of Fine Art at the University of Minnesota-Twin Cities in 2011. Vargas is from Bellevue, Nebraska.
REBUILD FOUNDATION
Rebuild Foundation provides architectural and design support for Carver Bank in Omaha and for projects in Saint Louis and Chicago. Rebuild Foundation is a not-for-profit, creative engine focusing on cultural and economic redevelopment and affordable space initiatives in under-resourced communities. In each city, Rebuild's projects enlist a team of artists, architects, developers, educators and community activists, who work together to integrate the arts and alternative entrepreneurship into a community-driven process of placemaking and neighborhood transformation.
Founded by Theaster Gates, Rebuild engages an artistic practice which uses as its medium the urban fabric of under-resourced districts, bridging the creation of art with renovation and adaptive reuse, recycling of building materials and place-based initiatives for neighborhood revitalization.
BEMIS CENTER FOR CONTEMPORARY ARTS
The Bemis Center for Contemporary Arts was founded in 1981 by artists, for artists. Bemis Center's sole mission is to support artists of exceptional talent. In this spirit, the Bemis Center seeks to perpetually give the institution to artists working at the forefront of contemporary culture. The Bemis Center's international artist-in-residence program, exhibitions, projects and community arts programs provide direct support to artists' process and catalyze their work to engage and challenge the public.
BIG MAMA'S SANDWICH SHOP
Patricia "Big Mama" Barron is the founder and owner of Big Mama's Kitchen and Catering, a full-service restaurant and caterer specializing in soul food and traditional American cuisine. Big Mama's Kitchen opened December 2007 at 45th and Bedford Streets in North Omaha, Nebraska. It has received international attention as a destination restaurant and has been featured on Diners, Drive-Ins and Dives (Food Network), 101 Tastiest Places to Chow Down (Travel Channel), and Ludo Bites America (Sundance Channel).
A second location with a new menu, Big Mama's Sandwich Shop is located in Carver Bank's storefront. The goal of the sandwich shop is to be a local food haven in the Near North Side neighborhood, drawing in a city-wide customer base. The menu is inspired by Big Mama's childhood memories of growing up in the area and includes the "North Omaha Dog," the "Old School Wrap," and "Big Mama's Cold Fried Chicken Sandwich."
SPONSORS
This project is supported by ArtPlace America, a collaboration of leading national and regional foundations, banks and federal agencies accelerating creative placemaking across the U.S. Major support is provided by Annette and Paul Smith, The Sherwood Foundation, the Robert Rauschenberg Foundation's Artistic Innovation and Collaboration Program, which supports fearless and innovative collaborations in the spirit of Robert Rauschenberg, the City of Omaha, a National Endowment for the Arts Our Town grant, The Joyce Foundation, The Harpo Foundation, Carol Gendler | Marathon Realty, Education Power | Bob Webber, Min | Day + FACT, Impact One Community Connection, North Omaha Historical Grant, Brand Metal Works, Big Mama's Kitchen and Catering, Chef Patricia "Big Mama" Barron, Davis Erection Company + Crane Rental and Rigging, Rybin Plumbing & Heating, Sandy Matthews, Mike Sinclair, Reasonable Rate Contractors, Surreal Media Lab and Lyman-Richey Corporation.
Acknowledgements
The Bemis Center and Theaster Gates would like to acknowledge the extensive efforts of the Bemis Center and Rebuild Foundation's board of directors, staff, interns and community partners in realizing this project. The organization would particularly like to thank the City of Omaha Planning Department, Sean R. Ward, Charlie Vinz, Steven Schmiedeskamp, Jannette Taylor and Impact One Impact One Community Connection, Gabrielle and Sharif Liwaru and Malcolm X Foundation, Tim Clark, Janet Ashley and Love's Jazz and Arts Center, Michael Maroney, Annette Artherton and Omaha Economic Development Corporation, Jim Beatty and Great Plains Black History Museum, Othello Meadows and Seventy Five North Revitalization Corp., Richard Sciortino and Brinshore Development, Brigitte McQueen Shew and the Union for Contemporary Art, Lee Kallstrom and Omaha North High Magnet School, Jack Phillips and the New Tree School, the African American Young Professionals, Girls Scouts Spirit of Nebraska, Rich Mansfield, Omaha Public Library - Charles B. Washington Branch, University of Nebraska - Service Learning Academy, Leo Louis, Gerard Pefung, Pamela Berry, Deb Bunting, Antwain Foster, Dara Epison, Willie Williams, Aaryon Williams, Rob Phillips, Manne Cook, Cameron Conlon, Wesley Dancy, Drew Pauly, Nathaniel Young, Laura Carlson, and Kristy Durkin for their ongoing efforts and support.
Exhibitions Presenting Sponsor
Omaha Steaks
Sponsors
Brand Metal Works, Clark Creative Group, Council Bluffs Recycling Center, Davis Erection and Crane Rental & Rigging, Echo Systems, Education Power | Robert Webber, Larry Gawel Photography, Chris Headley / OmahaComputerHelp.com, Min | Day, Nebraska Arts Council, Nebraska Cultural Endowment, Rybin Plumbing & Heating, Laura and Gregory Schnackel, Sherwin Williams, Mike Sinclair, Upstream Brewing Company, Visions Custom Framing, Warren Distribution
CONTACT INFORMATION
For further information or print resolution images contact:
CARVER BANK
2416 Lake Street / Omaha, NE 68111
carverbank@bemiscenter.org | 402.933.6624
www.bemiscenter.org | www.theastergates.com | www.rebuild-foundation.org
SELECTED PRESS
Artists running with opportunity to go to next level | Leo Biga | The Reader | 05.22.13
A Space to explore Art, History, Race | Erin Grace | Omaha World Herald | 02.18.13
Try a Little Tenderness | Life + Times - Jay Z | 12.15.12
The Artist Next Door | 2012 Innovator of the Year | Wall Street Journal | 10.25.12
Students tackle historic project in North Omaha | KMTV 3 Omaha | 10.13.12
Designs for Life | Frieze Issue 149 | September 2012
Carver Bank" project finds potential in North Omaha "gems" | KVNO News | 08.23.12
South Side artist's latest project: Saving long - abandoned bank | The Chicago Tribune | 08.05.12
Theaster Gates: Radical Reform with Everyday Tools | Afterall | Summer 2012
North 24 Revivalists: A synergy in North Omaha harkens a new arts-culture district for the city | The Reader | 07.12.12
Art Show as Unruly Organism: Documenta 13 in Kassel, Germany | The New York Times | 05.14.12
The Accidental DIY Developer | The Atlantic Cities | 3.26.12
Theaster Gates: Anthropologist, urbanist, activist - the 21st-century artist | Art Review | 1-2.2012
Theaster Gates In the Studio | Art in America | 12.2011
Creative Rebuild, Theaster Gates in Hyde Park, St. Louis | Art 21 Blog | 8.1.2011
Dorchester Projects, Chicago Film Archives team for movie nights | Chicago Tribune | 7.9.2011
In Grand Crossing, a House Becomes a Home for Art | New York Times | 4.7.2011
House Plans | Chicago Weekly | 3.9.2011
Lessons from the Superfly Machine | Archinect | 10.2010
High Spirits | New City Art | 3.30.2010
An Artist and a Citizen | Art 21 Blog | 10.30.2009