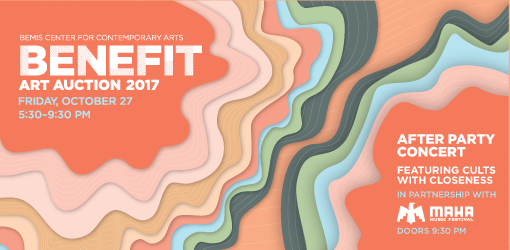 We are pleased to once again unite local and national artists with our beloved community of art patrons in an effort to raise critical resources for the Bemis Center for Contemporary Arts.

5:30 PM  Doors Open, Hors d'Oeuvres, and Open Bar
7:45 PM   Silent Auction, Section 1 Closing
8:15 PM   Silent Auction, Section 2 Closing
8:45 PM   Silent Auction, Section 3 Closing
9:15 PM   Silent Auction, Section 4 Closing
TICKETS TO THE BENEFIT ART AUCTION ARE SOLD OUT!

And a new addition to this year's Benefit...
AFTER PARTY CONCERT FEATURING CULTS WITH CLOSENESS
in partnership with Maha Music Festival

9:30 PM  Doors Open
10:00 PM  Closeness
11:00 PM  Cults
 A limited number of tickets for the After Party Concert may be purchased at the door for $32, pending availability.

We are grateful for the artists who have elected to participate in this year's Benefit Art Auction + After Party Concert and are excited to share their vast talents.

The Benefit Art Auction Exhibition will be on view, October 14–27, during public hours, Wednesday–Saturday, 11:00 a.m.–5:00 p.m. and until 9:00 p.m. on Thursday. All artwork is available for purchase prior to the Benefit Art Auction at "Buy It Now" prices. Bemis Center admission is free, donations are welcome.