Extraordinary Rendition | Underground
November 19 - December 17, 2010
Description:
WHAT: Extraordinary Rendition, a collaboration between two artists and featuring a dozen more
WHO: Tim Guthrie and Doug Hayko with Jamie Burmeister, Peter Cales, Justin Kemerling, Landi Olsen, Nolan Tredway, Carol Zuegner, Sarah Baker Hansen, omahaliveartdivision
WHEN: Opening Reception: Friday, November 19, 2010 | 6:00 - 9:00 p.m.
Gallery Talk: Saturday, November 20, 2010 | 12 noon
Exhibition continues through December 17, 2010
WHERE: Underground, Lower level of the Bemis Center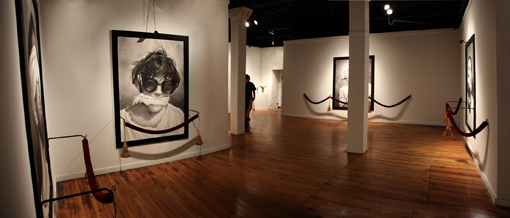 The role of the artist is to transcend conventional wisdom, to transcend the word of the establishment, to transcend the orthodoxy, to go beyond and escape what is handed down by the government or what is said in the media. [Howard Zinn, Artists in Times of War].

Extraordinary Rendition, a collaboration between artists Tim Guthrie and Doug Hayko, is a multi-space installation that will divide the Bemis Underground space into three distinct rooms. The installation includes a performance (Interrogation Room with performers throughout the exhibit), a wall of surveillance monitors showing various videos along with a large video projection (Surveillance Room) juxtaposed with a group of traditional portraits rendered simply in graphite on paper (Gallery Room).

While visitors contemplate the work in the Gallery Room, surveillance cameras attached to the frames above the drawings simultaneously record their re/actions. These videos are displayed live on monitors in the Surveillance Room and digitally downloaded onto an online database for future examination and analysis. During the entire opening reception, there will be a performance in the Interrogation Room that takes place while other performers circulate in areas throughout the entire exhibition space.

Extraordinary Rendition and Surveillance:
The term extraordinary rendition is used to describe the practice of secretly capturing suspected criminals or terrorists without the knowledge of anyone else, including the governments of the countries in which individuals reside. They are then secretly rendered to other countries, secret detention centers or "black sites." This way individuals can be transferred to other locations to be tortured by proxy without ostensibly violating the United Nations Convention Against Torture and without the writ of habeas corpus.

The National Security Agency's (NSA) warrantless electronic surveillance program was created by the government to monitor individuals inside and outside the U.S. without the judicial oversight mandated by the Foreign Intelligence Surveillance Act (FISA).

This exhibit aims to encourage discourse about the practice of extraordinary rendition.

---

About the Artists:
Tim Guthrie, MFA, is a visual artist and experimental filmmaker whose work is in collections throughout the country. He has had solo exhibitions at numerous museums and galleries.

Tim has been awarded artist residencies. Some of include (Ørslev Kloster [Denmark], The Tyrone Guthrie Center [Ireland], New Pacific Studio [New Zealand], Blue Mountain Center [NY]), among other residencies. He has received artist fellowships and grants (Nevada Arts Council, Sierra Arts Foundation, Nebraska Arts Council), and his work has also received top awards in exhibitions, including purchase awards at the Paris Gibson Square Museum of Art and international awards at "Conflicts: The Cult of War and the Culture of Peace - AniMOweb," Modena, Italy, for the short film "Recalling Trinity," which was also included in the Hiroshima Animation Festival (in a special war related section) and the 5th Annual Athens International Animation Festival.

Doug Hayko holds a BA in English Literature and Theater Performance from Creighton University. Known for developing experimental performance pieces that push the boundaries of audience expectation and decorum, his work has been shown at various venues in and around the Omaha metropolitan area. Far Away in the Orchard and East of 72nd: Disrupting the Omaha Landscape in Six Acts both premiered at the Bemis Underground in 2005 and 2007 respectively. East of 72nd: Disrupting the Omaha Landscape in Six Acts involved the production of six live art events at various locations throughout Omaha. Hayko serves as the founding member of the omahaliveartdivision and lives in Omaha.

The omahaliveartdivision are committed to engaging audiences through performance, fearless in their exploration of contemporary themes and unafraid of pushing the limits of artistic/theatrical forms. Their goal is to bring experimental and challenging performances to audiences that would not otherwise see them. They typically create and execute six performance pieces annually, with two of the six being larger scale pieces. All performance pieces are produced in both traditional and non-traditional sites throughout the Omaha metropolitan area.

Underground Sponsors:




Additional Sponsors:
Clark Creative Group
Upstream Brewing Company
Warren Distribution

Categories
main event calendar
Current Exhibitions
Upcoming Exhibitions