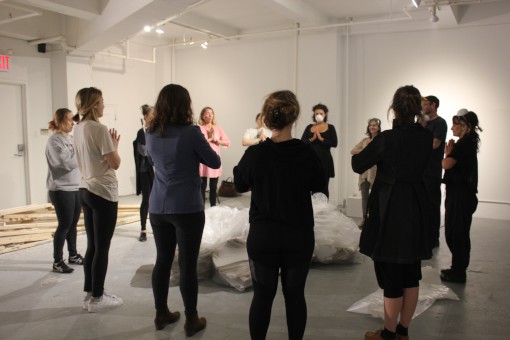 March 22–June 2, 2018
Sick Time, Sleepy Time, Crip Time: Against Capitalism's Temporal Bullying focuses on how the body is articulated in various discourses oriented around health. (Note: "Crip" is a political reclaiming of the derogatory label "cripple.") The artists in this exhibition, through artworks and practices with care-focused groups, examine how support for the body in states of illness, rest, and disability (particularly their temporalities) prompts us to re-imagine collectivity as existence under capitalism and interwoven forces of oppression becomes impossible. Dragging on, circling back, with no regard for the structure of the work week or compulsory able-bodiedness, the time that this multi-prong curatorial project investigates is non-compliant. It refuses a fantasy of normalcy measured by either-in-or-out thresholds and demands care that exceeds that which the nuclear family unit can provide.
We are all united by the fact that we will experience fluctuating states of debility throughout the course of our lives whether we currently identify as sick or not. Furthermore, in the United States, many of us are exhausted from living and working in a capitalist system as insufficient infrastructures for care have further deteriorated. Considering the fact that the failures of public health and biomedicine are felt by some disproportionately due to race, class, gender, sexuality, etc., Sick Time, Sleepy Time, Crip Time: Against Capitalism's Temporal Bullying provides a platform to explore collective forms of healing to deal with structural processes of exclusion and the way in which trauma is held in the body. To this end, artworks dealing with care, illness, fitness, sleep, somatic sustainability, labor, alternative temporalities, and wellness culture will be shown at Bemis, with an exhibition on life/work balance providing a locus for ongoing conversations about transitional architectures for relief and potential repair.
Additionally, an associated program series entitled The Warp and Weft of Care will occur as a dialogue between many of the artists in the exhibition and local communities of care, with some events open to the public taking place at Bemis and other closed-door collaborations occurring offsite at partner organizations. The program's engagements will draw from a long history of feminist, indigenous, black, and queer art that investigates how trauma gets held and expressed through collective rituals and shared somatic experiences. As our increasingly secular society loses intergenerational knowledge and undervalues epistemologies that are not mind-centered, cultural rituals seated in struggles of justice are infinitely valuable to collective wellbeing.
While Sick Time, Sleepy Time, Crip Time: Against Capitalism's Temporal Bullying draws from a socio-political disability framework that pushes back against the over-valorization of independence in our society, the perspective of groups involved will vary. The Warp and Weft of Care will engage those for whom it is clear that their wellbeing is intertwined with that of others and are already invested in building alternative systems of support. Additionally, it will engage interest groups that operate under the belief that interdependency is only for those without enough resources to be independent and illness is an impediment to personal freedom.
Sick Time, Sleepy Time, Crip Time: Against Capitalism's Temporal Bullying is curated by Taraneh Fazeli, 2018 Bemis Curator-in-Residence. 
A previous version of this exhibition and program series took place between Houston, Texas and New York City in Spring 2017, where it was made possible with the generous support of EFA Project Space, a program of The Elizabeth Foundation for the Arts; The Museum of Fine Arts, Houston's Core Residency Program; and The Idea Fund.