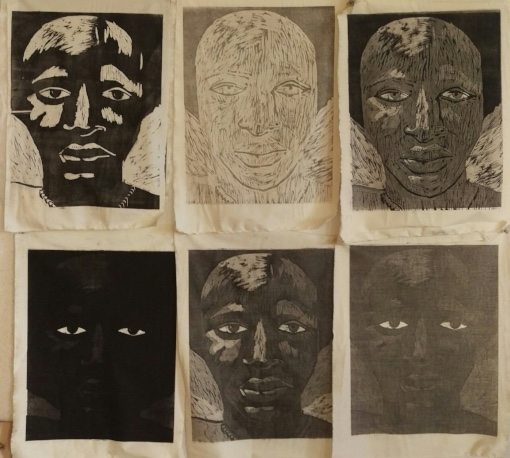 February 2–April 29, 2017
Paula Wilson's installation transforms the Bemis Center's gallery into a processional space where ancient themes meet contemporary expression. Mining the artist's ongoing investigations of race, identity, and objectification of the female body, the mise-en-scene transports viewers into a mythical creation story composed of painting, video, and prints on fabric. Wilson's caryatids bear witness to the metaphorical empowerment of the work of art. Here, the classical female figure is personified not as a victim, but as a beloved heroine challenging the dominant power structures that hold her sisters in place.
Paula Wilson: The Backward Glance is curated by Chris Cook, Bemis Center Executive Director.
Paula Wilson is a multimedia artist based in Carrizozo, New Mexico. Her work is included in the collections of The Studio Museum Harlem (New York), Yale University Art Gallery (New Haven), Mildred Lane Kemper Art Museum (St. Louis), and Saatchi Gallery (London), among others. Previous solo exhibitions have been at Cherry & Lucic (Portland), The Fabric Workshop and Museum (Philadelphia), and the Center for Contemporary Arts (Santa Fe). She holds a MFA from Columbia University.