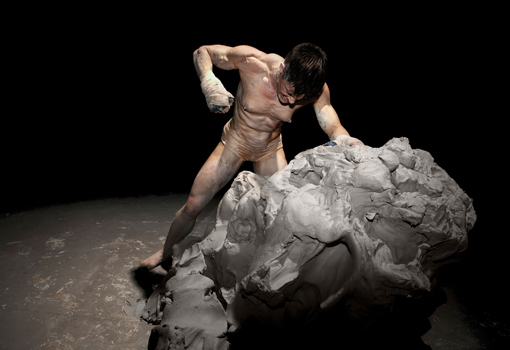 February 2–April 29, 2017
Multi-media artist Cassils's three-part exhibition addresses timely concerns of unseen violence and trauma against transgender bodies. Their durational performance Becoming An Image confronts viewers with a body-intensive attack on a 2,000 pound clay block in a blacked-out gallery. This assault calls into question the role of the witness, the aggressor, and the documentor. In collaboration with local queer and trans groups, Cassils's work will be contextualized through the premiere of the artist's movable bronze monument, Resilience of the 20%, and objects from the Queer Omaha Archives at the University of Nebraska at Omaha.
Cassils: The Phantom Revenant is curated by Alex Priest, Bemis Center Exhibitions Manager.
Cassils is from Montreal, Canada and is now based in Los Angeles. Their work uses the body in a sculptural fashion, integrating feminism, body art, and gay male aesthetics. Recent solo exhibitions include MU Eindhoven (Netherlands), Trinty Square Video (Toronto), and Ronald Feldman Fine Arts (New York). Cassils's work has also been featured at Institute for Contemporary Art and The National Theatre (London), MUCA Roma, (Mexico City), Yerba Buena Center for the Arts (San Francisco), Los Angeles Contemporary Exhibitions (Los Angeles), Utah Museum of Contemporary Art (Salt Lake City), ANTI Contemporary Performance Festival (Kuopio, Finland), Museo da Imagem e do Som (São Paulo, Brazil), Museo de Arte y Diseño Contemporáneo (San José, Costa Rica), and Deutsches Historishes Museum (Berlin, Germany). Cassils is the recipient of a 2015 Creative Capital Award. They have also received the inaugural ANTI Festival International Prize for Live Art, Rema Hort Mann Visual Arts Fellowship, California Community Foundation Grant, MOTHA (Museum of Transgender Hirstory) award, and Visual Artist Fellowship from the Canada Council of the Arts. Their work has been featured in New York Times, Wired, The Guardian, TDR, Performance Research, Art Journal, and Vogue Brazil and was the subject of the monograph Cassils published by MU Eindhoven in 2015. Cassils received a BFA from Nova Scotia College of Art and Design (NSCAD) in Halifax, Canada and attended the MFA program at California Institute of the Arts from 2000-2002 on a highly coveted merit scholarship.

Cassils uses plural gender-neutral pronouns (they, them, their) and asks that journalists do likewise when referring to them. This plurality reflects, through language, the position Cassils occupies as an artist.