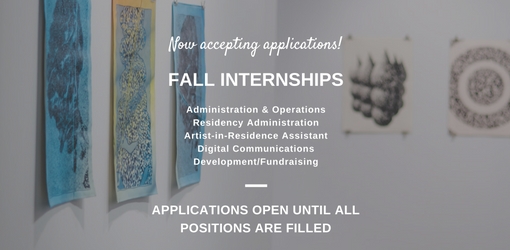 The Bemis Center for Contemporary Arts welcomes applications for our fall internship program. Interns gain nonprofit arts experience, are exposed to artists from around the world, learn how exhibitions come to fruition, and how artists and curators engage the public. This is an opportunity to work alongside some of today's most creative professionals.
What does it take to be an intern? A passion for contemporary art, self-motivation, attention to detail, ability to work without much supervision, strong written and verbal communication skills, an eagerness to learn, and the proficiencies required for your specific area of interest. All internship positions require varying levels of clerical and/or physical work. Bemis Center internships are unpaid; most universities offer college credit.
Questions about our internship program: Contact Linda Hilliar, Administrative Assistant at 402.341.7130 x24 or at linda@bemiscenter.org.
Learn more about our fall internship opportunities and download the application.
Fall 2016 Internships
Administration & Operations: Be the first point of contact for Bemis Center visitors. Help maintain the front desk and public spaces during operating hours. Become knowledgeable about exhibitions and public programs and communicate this information to patrons. Interns will assist the Operations Team with basic administrative tasks. Ideal candidates are eager to help with events and are comfortable working with numbers and excel. Time commitment: 10–15 hours per week, Tuesday–Saturday, between the hours of 11:00am–5:00pm. Assistance with at least two events per month required.
Residency Program Administration: Contribute to the Bemis Center's core residency program and related events. Assist in the coordination of Art Talk and Open Studios and gather alumni news for e­newsletters. Ideal candidates enjoy administrative work, data input, working with artists, researching, organizing information, and desire hands­on experience in residency program support. Proficiency in Google Forms and Docs, and MailChimp, desired. Time commitment: 8–10 hours per week, Monday–Friday. Assistance with two public events per month is required.
Artist-in-Residence Assistant: Be exposed to contemporary ideas and processes by working directly with the artists-in-residence. Interns often make connections with artists that last a lifetime. Ideal candidates enjoy working with materials, sourcing information, are passionate about the arts, and want to gain hands­on experience in the studio. Time commitment: 10 hours per week, Monday–Friday. Assistance with at least two events per month required.
Digital Communications: Help spread the word about Bemis programming via social media platforms, eNewsletters, and other digital platforms. Assist with the content creation for our social media accounts, engage our online audience and operate content distribution via Hootsuite. Take photos of events and unique happenings in our venues. Assist with new promotion efforts while continuing to nurture our existing online communities by developing visually stimulating promo pieces for upcoming events. Post relevant promo pieces to web calendars and digitize and index archival materials. Time commitment: 8­-10 hours per week, Monday–Friday. Assistance with most events is required for this internship.
Development Program Assistant: Contribute toward the success of the Bemis Center's Development (Fundraising) program by assisting in maintaining a system for documenting donations and grant awards. Experience with database management and a high level of attention to detail is desired. Individuals with an interest in contemporary art and/or non­profit organization management are encouraged to apply. This is an opportunity to participate in one of the most important internal workings of the organization. Time commitment: 8­-10 hours per week, Monday–Friday. Assistance with two events per month is required.
Application Instructions Please send the following materials to linda@bemiscenter.org.  
Application — Completed application form, noting area(s) of interest. Download the form
Resume — A current resume.
Statement of Purpose — A short statement explaining why you want to intern at the Bemis Center, what you wish to gain from the experience, and your current career goals.
Your application will be given to the program managers/directors for review and we will contact you via email if you are selected for an interview. Thank you for your interesting in the Bemis Center for Contemporary Arts!