Matt Lowe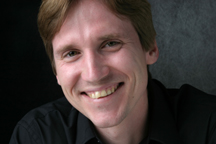 Chief Preparator / Facility Manager
Chief Preparator / Facility Manager, Matt Lowe oversees the Bemis Center's 10,0000 square-foot-facility, which includes maintaining all equipment and installing exhibitions. He also instructs resident artists on the use of the Center's industrial equipment. Matt's extensive background in fabrication and construction additionally enables him to build and maintain the Center's eight live/work studios, its four galleries and the 10,000 square-foot-Okada Sculpture Facility.
A recipient of both the University of Iowa Arts Fellowship and the Wilhelm and Jane Bodine Fellowship, Matt received his MFA in Sculpture from the University of Iowa in 2000, where he also taught through the teaching assistantship program. Following graduation, he focused primarily on bronze casting, and he also worked as Assistant Preparator for the Joslyn Art Museum.
For more information on the Bemis Center's facilities, please contact Matt at 402.341.7130 or matt(at)bemiscenter.org.