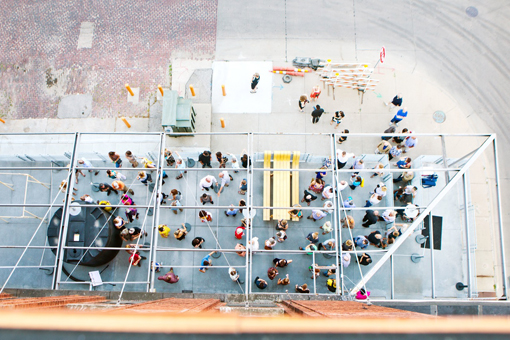 It was basically over in 15 minutes.
The bemisUNDERGROUND's popular $100 Art Sale returned on Friday, June 8, raising over $16,000 in support of emerging and local artists.
The line started forming at 10:00 am, nine hours before the event officially began. As 7:00 pm arrived, Europe's "The Final Countdown" began playing over loud speakers. Once the song ended, hundreds of eager art collectors rushed downstairs.
130 pieces donated by local, regional and national artists, sold for $100 each. In addition to the work for sale, eight incredible pieces by nationally known artists were raffled off. The lucky winners, followed by the artists, were:
Robert Benzel – Karen Kunc
Paul Stegman – Dennis McNett
Dominick Dimaio – Mark Masuoka
Amy Mather - JBoy
Joel Barjenbruch – Mary Zicafoose
Brian Bartels – Shepard Fairey
Brad Miller – Laurie Frick
Chris Machian – Vera Mercer
In total, the fundraiser generated $16,196, a full $3,000 more than last year. All proceeds will go to support the bemisUNDERGROUND's mission, providing opportunities for regional and emerging artists and fostering an ongoing dialogue about the arts.